Shoplifting Beverly Hills, Client Age 71, Diversion
Our client, who had worked in the clothing industry his entire career, came out to Los Angeles from Florida to visit his granddaughter. While he had visited the original Barney's of New York in New York City, he was curious to visit the Beverly Hills store.
While visiting the store, he decided to get himself a souvenir and not pay for it. He found a $285 pair of pants that fit him and went to the changing room. He put the pants on and then put his original pants over the Barney's pants. Loss prevention immediately noticed this and stopped him as he tried to walk out of the store.
He was then taken back to the loss prevention office, where he apologized and offered to pay for the pants. Loss prevention took his photograph and called the Beverly Hills Police Department, who came to the store and kindly cited him out, rather than take him to the police station for booking and processing. Instead, he signed a promise to appear in about two months in the Airport Courthouse on La Cienega and was released.
The client returned to Florida and began calling attorneys in the Los Angeles area. He called Greg Hill & Associates and spoke with Greg. He described himself, his life history and what had happened in Barney's of New York in Beverly Hills.

The client mentioned that he had been on certain medications that caused him to act in odd ways and to become forgetful and commented that maybe he forgot he had put on the pants in Barney's and then just put on his other pants on top before trying to walk out, suggesting he lacked the intent to steal.

Greg immediately called Barney's of New York in Beverly Hills and spoke with a manager about a civil compromise. As our client advised that Barney's was filing for bankruptcy protection, Greg believed it would be worth trying to pay the store for their loss prevention fees (they might appreciate such a payment more now in their financial condition) in order to secure a declaration from the store that it was paid in full and was not interested in criminal prosecution.
As Greg had described to the client, under California Penal Code §§ 1377 and 1378, a person accused of a crime that is capable of a civil resolution may ask a judge to dismiss the case if the judge finds the case is appropriate for a civil resolution and the "victim" is "made whole" (paid for the damage or inconvenience) and is no longer interested in criminal prosecution of the defendant.

However, after four or five phone calls following up with other higher-level managers, it became apparent that Barney's was not really interested in a check for up to $500 (the limit set by California law).
Greg also had recommended to the client that he enroll in and take an online shoplifting prevention course offered by Logan Social Service, Tom Wilson Counseling or the National Association of Shoplifting Prevention. The client then did so immediately and e-mailed Greg the completion certificate, as well as a letter from his doctor documenting his recent medication that caused forgetfulness.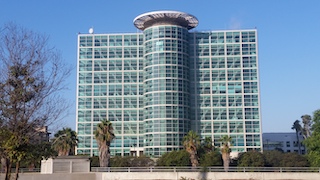 Airport Courthouse
With such letters enclosed in a letter, Greg wrote the Los Angeles City Attorney's office, suggesting that the matter for our client, with no prior criminal history and a senior citizen, be resolved through an office hearing.
The day for the arraignment finally arrived and without receiving any response to our request for an office hearing, Greg appeared on the client's behalf for the arraignment.

At the first arraignment, the Los Angeles City Prosecutor made an offer wherein our client would be convicted for shoplifting (Penal Code § 459.5), but commented that he was not the usual prosecutor in the department and another prosecutor, who Greg knew from prior cases, would be handling the case.
Greg therefore continued the arraignment to allow the other prosecutor to make an offer on the case. On the continued arraignment date, Greg appeared and the prosecutor discussed the case with Greg. Greg showed the prosecutor our client's certificate of completion of the online theft prevention course and his doctor's letter.
The prosecutor noted that our client was cooperative with loss prevention and had no prior criminal history at age 71. She therefore kindly offered our client informal diversion, wherein our client would perform 50 hours of community service in Florida and, if after three months, he returns to court with proof of performing such community service, the case would be dismissed.
Our client was very happy with this offer and eagerly performed the community service in Florida at a well-respected, national charity. Three months later, the case was indeed dismissed.

For more information about shoplifting, diversion and sealing an arrest and court record, please click on the following articles: