What Is the Consumer Arrest Equity Act, SB 393?
On October 11, 2017, Governor Jerry Brown signed the Consumer Arrest Equity (CARE) Act, also known as Senate Bill (SB) 393. Broadly speaking, the CARE Act allows the sealing of records for those arrested, but not convicted of a crime in order to restore the presumption of innocence and removes barriers to employment and housing.
In a Nutshell: The CARE Act, which allows sealing and destroying of certain records if no case was filed after an arrest, or the case was dismissed under certain provisions, has certain exceptions that an attorney should consider in cases of domestic violence, elder abuse and child abuse.

The legislation will become effective January 1, 2018. SB 393 establishes a uniform legal process for a updating criminal records so that credit reporting agencies and the California Department of Justice (DOJ) do not disseminate sealed arrest info.
The bill was authored by Democratic State Senator Ricardo Lar of Bell Gardens. As San Francisco District Attorney George Gascon said, "The CARE Act ensures that thousands of Californians, will no longer wear the scarlet letter that comes with an arrest record."
The impetus for the legislation has been building for years. Penal Code § 851.8, which provides for a declaration of factual innocence, is currently the only way for an adult to have a criminal record sealed. However, the legal standard for being declared factually innocent is so tough that one appellate court called it "incredibly high."
People v. Bejan Esmaili
(2013) 213 Cal.App.4th 1449.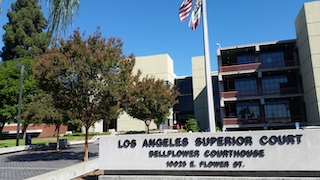 Bellflower Courthouse
This has meant that thousands, if not tens of thousands of people, have criminal histories that show arrests for crimes they were later exonerated of, that the DA dismissed or that they earned a dismissal of in some way.
Yet it is indisputable that people are routinely denied jobs, housing, state licenses, loans and even volunteer opportunities based on a criminal history that shows an arrest or arrests that never resolved by a conviction. The arrest may have been based on mistaken identity or other police mistakes, yet the arrested person pays for the officer's mistake for the rest of their life.
Arrest records that are not sealed can be life-changing. Studies have found that approximately 40% of men and 20% of women were arrested before the age of 23, yet 47% were never convicted. Another study shows that approximately one-third of felony arrests did not lead to conviction. Moreover, African Americans, who account for less than 14% of the population, make-up 28% of all arrests. Thus, the impact of unsealed arrest records has a disproportionate effect on African Americans.
With technological advancements, government information is more public than ever and integrated into database used by consumer reporting agencies. Thus, the pernicious effect of an arrest record that never led to a conviction is more damaging than ever.
According to a 2012 study conducted by the Society for Human Resources Management, 69% of employers use criminal background checks on all job candidates, but only 58% allow candidates to explain negative results. Many applicants are rejected solely based on having an arrest record.
The reason for many employers relying upon background checks to screen employees is insurance-driven. Insurance companies recognize that a stable workforce leads to less worker's compensation claims, lower litigation and less absenteeism. If an employee is on probation and violates probation, that employee may miss work if arrested on a bench warrant and put in jail. Likewise, an employee who has a criminal history may need to spend time away from work in court, performing community service, leaving work early to go to DUI classes (for example) or be financially strapped to pay court fees and fines, leading the employee to work a second job.
Current law prohibits employers from asking an applicant about prior arrests that did not lead to convictions, yet many employers simply refuse to consider anyone with an arrest record. Similarly, Labor Code § 437.2(c) prohibits an employer from considering an expunged conviction in making a hiring decision, but there can be little doubt that employers still consider such a conviction in setting starting salaries, allocating job responsibilities and deciding on promotions, if the person is even hired (the employer could deny employment based on an alternative reason).
Governor Brown's signature on SB 393 does not level the playing field completely, but it is a giant step in the right direction.
For more information about expungement and criminal record issues, please click on the following articles:
Contact us.