Expunged Convictions and State License Applications?
"Expungement" is a term found nowhere in our Penal Code or any other California statute. It is a term used loosely in California to describe a process under Penal Code § 1203.4 using judicial council form CR-180 to have a plea of guilty or no contest in California changed to not guilty and the case dismissed.
Main Point: What Does the New Law in 2015 Concerning Expunged Convictions Mean for State License Applications?

Experienced attorneys will remark that a petition granted under Penal Code § 1203.4 is often overstated, as it really only has a rather limited benefit in employment applications. It allows an applicant to most non-government jobs to answer "no" to a question asking if the person has ever been convicted, assuming there was only one conviction and the 1203.4 petition was granted. This is the primary benefit.
As stated directly on CR-181, the order granting such a petition, the convicted person is not relieved of the obligation to register as a sex offender if the person had to so register before the conviction. The signed order also does not reinstate one's rights to own or possess a firearm. The person must also disclose the conviction if applying for a public office, to operate a lottery, or in applying for any state license.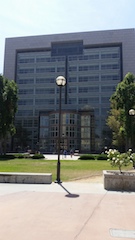 Van Nuys Courthouse
The reader of this article may quickly conclude that relief under § 1203.4 is worthless if one is applying for a state license. This has indeed been the general consensus until September 28, 2014, when Governor Jerry Brown signed Assembly Bill 2396. This new law became effective on January 1, 2015, adding to Business & Professions Code § 480 that a person cannot be denied a state license only because of an expunged conviction. The new provision does not apply to expunged convictions from another state.
This new provision really only applies to licensing agencies under the Department of Consumer Affairs, meaning it does not apply to the Department of Insurance or the Department of Social Services. The Medical Board of California is under the Department of Consumer Affairs, however, it has its own licensing criteria that allows it to review the facts and evidence of the underlying criminal case to evaluate if there was conduct that merits denial, revocation or suspension of a license.
For example, a doctor with a DUI or a nurse with a DUI will probably see no benefit from the new law. After all, the Medical Board will view DUI as an abuse of alcohol, or a dangerous use of alcohol.
The Bureau of Real Estate is also under the Department of Consumer Affairs. The Bureau of Real Estate, as compared to the Medical Board, does not have separate licensing criteria, meaning the new law seems like it will have the biggest benefit to those seeking a state license issued by the Bureau of Real Estate.
It merits mention that the many licensing agencies within California should be expected to resent the change in the law. After all, this new law appears to allow a lowering of the standards and thus, will allow in a "few bad apples" that can ruin the reputation of certain professions. Thus, it would be wise to expect the many state licensing agencies to be more active in looking at the conduct at issue, i.e. by examining the police report if it exists. Sometimes, the police report is destroyed or lost, especially if it is quite old.
So the question remains: should one petition the court for relief under Penal Code § 1203.4 ("expungement")? We recommend it in all situations, if for no other reason that obtaining such relief shows a licensing agency you care enough about your record to obtain this. Expungment also can remove or decrease the stigma that attaches to certain offenses, which in today's highly competitive job market can make the crucial difference between being employed in one's desired profession and living a life of frustration and regret.
For more information about the issues in this article, click on the following articles:
Contact us.