What Can an Employer See in My Criminal History - Arrests?
Our office is regularly asked by clients and potential client whether their criminal history is visible to an employer conducting a periodic background update or a potential employer screening the client or potential client for an offer.
The Reader's Digest Version: If an employer requests that one submit to a Livescan, the background check into one's criminal history does report all arrests, convictions and detentions in one's life. The report is not limited to the last ten years as many people believe.

The answer depends upon the type of background check utilized by the employer. There are dozens of vendors offering to perform background checks and the prices associated with each vary by the depth of the search. Some background checks only check for felony convictions. Some will check for only judgments against an individual in civil courts, i.e. for unlawful detainer actions or credit card default proceedings. Some will check for all of the above and even Vehicle Code violations and traffic tickets. In other words, it matters on the thoroughness of the search.
The most common search that we find most companies use is Livescan. This search is increasingly mandated by insurance companies as the only allowed search for an employer. One can do a Livescan search on oneself to verify exactly what any employer may view. Google "Livescan" and select a facility near you to submit to such a background check. The fee associated with this may range up to $40 and the results are available within hours or up to two weeks.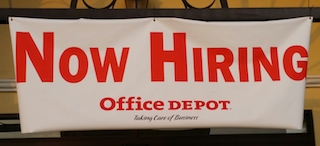 Now Hiring Sign Office Depot
It comes as a shock to many of our clients that the record of an arrest is not confidential. Arrests are sometimes reported in a "crime-log" or "police log" type column in local newspapers, even identifying the person arrested by name and age, and in local interest community web-sites, so it is certainly possible that the information is discoverable by a hard-digging, determined employer.
Moreover, companies of the size, sophistication, and scale that are attractive employers due to healthcare and other benefits usually employ professional information vendors to vet prospective employees by a broad search of all available public information (although the employer will not ordinarily spend the money for such information retrieval until they are close to a decision to make you an offer). So there is no certainty that the information will not surface.
If the arrest information comes to the employers attention, it is most likely not the mere fact of the arrest that will be of concern. The prospective employer's real interest and questions to you will almost certainly pertain to the conduct that is alleged or reported to have caused the arrest, not the arrest itself or any pending, or further legal process. This distinction between the fact of an arrest and the alleged conduct underlying the arrest is a critical one, but it is widely misunderstood by both consumers and even overlooked by some lawyers. Sophisticated employers and the commercial vendors who provide them information understand this distinction.
Whether you can best serve yourself by a voluntary disclosure and discussion about questionable conduct by you that has come to the company's attention (or may soon come to its attention) is a determination that depends first, upon the nature of the alleged conduct, and, second, upon your ability to handle the subject constructively with candor and equanimity. The only certain advice that anyone without all the facts can offer is: be truthful and forthcoming. Being evasive or partially truthful can get you rejected for consideration for employment, or fired even after hiring, fast.
The real issue for applicants for employment in your situation is not in how to handle any questions about the allegations of improper conduct that the prospective employer may raise. The real danger is that the employers who learn about allegations of unlawful or improper conduct about applicants for employment -- from whatever source, arrest-related or otherwise -- do not typically question the applicant about that information or challenge the applicant to explain or defend the conduct.
Instead and more often, the information about such allegations simply causes the prospective employer to quietly pass on that applicant without any explanation or statement by the employer of the reason. This is lawful action by the employer. The law does not require prospective employer to state a reason for passing on an applicant or hiring another candidate, although many will disclose this. For this reason, some who consider your situation will conclude that you have less to lose and more to gain by a disclosure and discussion of the conduct reported.
For more information about the issues in this case, please click on the following articles:
Contact us.