Airport Court, 2nd Degree Robbery (P.C. § 212.5), No Jail
Our client, age 23, and three of his friends decided to go to Las Vegas for a weekend. Our client's mom rented the quartet a car under her name and then went with her son and another friend to pick it up.
Our client and his friend then picked up two more friends before leaving for Vegas. As they were leaving town, they drove by a marijuana dispensary and noticed another guy with whom one of the passengers had an ongoing dispute. One of the people in the rental car suggested they stop and beat him up.
Summary: Our client charged with second degree robbery and assault with a deadly weapon after he is identified as the driver of a get-away car for two others identified as aggressors in beating up a man outside a Century Boulevard marijuana dispensary. Case resolved for no jail, formal probation and 75 days of community service after he paid off victim for his alleged losses.

The four agreed that this was a good idea. Two of the guys in the car approached the pedestrian and tackled him, hoping to then get in a few punches. One of the remaining two went to the marijuana dispensary and one drove the car.
Our client's two friends were unsuccessful in getting in more than one or two punches before the "enemy" ran away, into oncoming traffic no less. As he tried to escape, while being chased, he tripped and tumbled into a car that luckily slammed on its brakes just before impact.
The entire incident was captured on a security camera from a building nearby and, as it was in broad daylight, there were multiple witnesses to the incident. 911 was called and police were dispatched to the scene.
Our client and his three friends left the scene in the rental car, but more than one witness recorded the license plate tag. Our client and his three friends then went to Vegas and enjoyed their weekend.
Police arrived at the scene and the victim told police that he was robbed of $1,200 in cash, a 24-carat gold necklace worth $700 and a gold bracelet worth $500, as well as $50 in wax cartridges from the medical marijuana dispensary.
When our client returned, police had already identified him as a person of interest by tracing the license plate to the rental car company and speaking with an employee there. However, our client was last seen at the rental agency wearing a black shirt and all witnesses to the incident said the two assailants were wearing white shirts. Moreover, our client was a big guy – over 250 pounds – and clean shaven, but the witnesses described the assailants as thin and with a full beard and of medium build and with a goatee.
Police thus decided our client was the get-away driver, but no witness ever identified our client as the driver.
Police did identify just one of the three friends and he was arrested. A very good criminal defense attorney in Torrance then represented him and, once our client was arrested several weeks later, Greg Hill represented the alleged driver.
The police report was over fifty pages, filled with eye witness statements.
After interviewing with the client, Greg then went to the scene and met with the property manager for the building that operated the video camera. Greg was able to get a copy of the video that police also had.
Greg then viewed the video with the client and co-counsel.
Our client was eventually arrested one morning as he was leaving for work and was bailed out for $90,000. The bail amount was based the arrest being for second degree robbery (Penal Code § 212.5(a)) and assault with a deadly weapon (Penal Code § 245(a)(4)), a wobbler. As the reader of this summary may know, second degree robbery is a mandatory state prison sentence of two, three or five years. Since our client had earlier boasted to police he was in a gang in an earlier arrest for vandalism, the bail also took into consideration his gang affiliation under Penal Code § 186(b)(1)(A) (the names of which will not be identified to protect our client).
Our client posted bail and the arraignment was held shortly thereafter at the Airport Courthouse.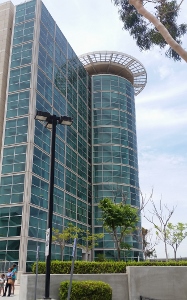 Airport Courthouse
From the outset of the case, there was skepticism whether the victim lost so much property as he claimed and whether the case was overcharged. Co-counsel suggested that he and Greg arrange for a private investigator to approach the victim and repay him for his alleged losses, in exchange for a signed agreement that he was not interested in any criminal prosecution.
Such an arrangement, like a civil compromise allowed in misdemeanor cases, was not allowed in felony cases. However, the judge and prosecutor agreed that if such a payment could be made, the case could resolve for a charge of just Penal Code § 245(a)(4), a wobbler, with no jail.
The payment was then made, much to the credit of co-counsel's private investigator working very hard.
The prosecutor then indeed dismissed the second-degree robbery charge, as well as the gang allegations on the assault with a deadly weapon charge (PC § 245(a)(4)). The Airport Courthouse judge then sentenced each defendant to five years of formal probation, no jail (or prison) and 75 days of community service. The judge further promised that if our client completed his 75 days of community service, he would drop the charge to a misdemeanor after three years and then terminate probation early, allowing expungement of the conviction as well.
The client was happy with this, as he faced a maximum sentence of 21 years in state prison otherwise, but was now given the chance at earning a misdemeanor and expungement, with no time in custody.
For more information about robbery, please click on the following articles:
Robbery Charges Dismissed When Police and Prosecutor Fail to Preserve Video Evidence Near Crime Scene
Contact us.