Shoplifting at Westfield Culver City, Client 18, Diversion
Our client, age 18, and her friend, also 18, went into the JCPenney at the Westfield Culver City Mall. The two had recently graduated from high school and were living at home still, but not working yet and not attending college. Our client wanted to take a year off away from academics before restarting her education at Santa Monica Community College. This decision angered our client's mom to no end, especially because her daughter seemed complacent with no job while the single mom worked to provide all support for the family.
Our client and her friend went to the mall just to hang out and get away from home. They went into JCPenney and eyed some nice t-shirts and leggings that they wished they could buy. Loss prevention was watching the two girls' every step from more than one overhead video cameras from different angles.
Our client and her friend then began placing the clothing items in their purses. Each teenager then casually wandered around the rest of the store while loss prevention was dispatched to the floor to stop the girls if they left without paying, which seemed imminent because each girl zipped up their purse as they walked around.
As the girls walked out of the store, loss prevention was waiting for them just steps outside the store. Both girls were shocked. Loss prevention took possession of each girl's purse and escorted the two to a back office, where they inventoried the items and asked each girl to sign a statement admitting to stealing.
Our client's purse held three Guess t-shirts, a pair of black leggings and two bras, in sum worth $194. Our client's friend was a bit more ambitious and aggressive in her shoplifting, as she was found to have over $250 in items in her purse. She also loaded up her purse with Guess t-shirts, leggings and bras.
After being held for over two hours, the girls were released to their parents after signing a promise to appear in the Airport Superior Courthouse in about 10 weeks.
The next morning, the client's mother called Greg Hill & Associates, not necessarily looking to retain an attorney, but interested in knowing what her daughter would face in punishment and what she could do, if anything, to perhaps have the case dismissed or resolved without a conviction for stealing.
Greg discussed the case facts with the mom and suggested that her daughter enroll in and take an online shoplifting prevention course through Logan Social Services, Tom Wilson Counseling or the National Association of Shoplifting Prevention. Greg also suggested that the client seek employment, which the mother appreciated hearing greatly, so that the prosecutor would understand the client was ambitious and a hard worker, even if she were taking a gap year.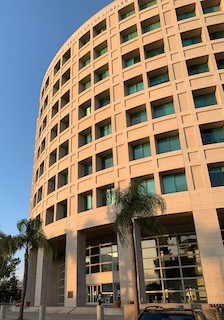 Airport Courthouse
Greg then discussed diversion, distinguishing between delayed entry of plea and delayed entry of judgment (DEJ), as well as an office hearing, and resolving the case for trespassing or disturbing the peace.

Greg also explained that JCPenney may seek compensation for its loss prevention fees through the outside services of a private law firm and that the client should not pay the loss prevention demand although the cover letter accompanying the demand often suggests that payment of the civil demand will prevent criminal prosecution, which is false.
The mom thanked Greg for his information and said she would call Greg Hill & Associates back if she wanted to retain us.
About two months later, on the eve of the arraignment, the client's mom called again and retained our firm.
Greg then appeared in court and discussed the case with the Los Angeles Assistant District Attorned in the Airport Courthouse. The client had completed the Logan Social Services shoplifting prevention program, which was impressive to the district attorney, who Greg had prior experience with when the prosecutor was at the Downey Superior Court and then the Bellflower Superior Court.
The prosecutor kindly offered our young client a dismissal if she performed twenty hours of community service and stayed out of the JCPenney at issue for six months. Our client readily agreed, further appreciating that she did not have to first enter a "no contest" or "guilty" plea before accepting the informal diversion offer.

For more information about shoplifting and diversion, please click on the following articles: