Van Nuys, Expungement of Felony Possession Conviction
Our client was convicted of felony possession of a controlled substance (California Health and Safety Code § 11350(a)) in Van Nuys Superior Court back in 2008. He then moved out of the country, earned a few degrees in various subjects and then resolved to return to the United States to hopefully work as a professor.
What One Should Learn from This Summary: Many people believe that a felony conviction is ineligible for expungement, but this is not true. However, not all felonies are eligible for expungement, depending upon the conviction and the sentence imposed. In this case, the client's felony possession conviction was reduced to a misdemeanor under Prop 47 and then expunged.
However, the felony conviction was certainly a problem. Under Prop 47, the conviction was eligible for resentencing as a misdemeanor, which was a good thing. However, he was unclear how to proceed.
He contacted Greg Hill & Associates via e-mail and asked about reduction of the conviction to a misdemeanor and then expungement of the conviction. Greg responded, explaining that 11350(a) was eligible and that, depending upon the courthouse, various procedures were required. In some courts, a written motion was required. In other courts, there was a standardized form to complete and submit. In other courts, it could be requested orally.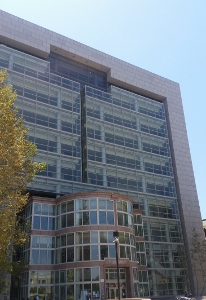 Van Nuys Superior Courthouse
Greg advised the client to check with the Van Nuys public defenders' office to inquire about whether he needed to hire private counsel to request this and if not, whether their office could do so for him so he could save money. The client immediately did this and the public defender's office promptly filed such a petition for resentencing under Proposition 47, which was granted in less than a month.
The client then contacted Greg Hill & Associates again, reporting that the conviction had been reduced, but that the public defenders' office was not able to file his petition for dismissal under Penal Code § 1203.4 (also known as expungement).

Greg first explained to the client that expungement does not erase, delete, omit or otherwise make a conviction disappear from one's criminal history, as may be possible in other states. In California, however, expungement did have value in that the guilty or no contest plea is changed by the judge back to not guilty and the case is dismissed. More importantly, it allows the petitioner (the formerly convicted person) to legally answer "no" in response to any employment question of whether he or she had been convicted of a felony or misdemeanor (assuming the petitioner does not have other convictions not yet expunged. The exception to this employment benefit is if one is applying to run a state lottery, run for public office, applying for a government job, or seeking a professional license from the state (i.e. insurance broker, doctor, lawyer, certified public accountant, architect, etc.).
The client responded that he was still desirous of filing the petition, as he did not intend to apply for professorship positions with any governmental entity.
Greg then sent the client a list of background questions about what the client had been doing in his life since 2008 when convicted. The answers to these questions were then incorporated into a declaration that was made part of a supplemental declaration in support of the petition for dismissal, along with points and authorities to explain the judge's authority to grant the petition because our client was eligible (he successfully completed probation, was not in custody, was not on probation or parole and was not facing any pending charges).
Greg Hill & Associates then prepared the petition with the supplemental memorandum, including the client's declaration in support thereof. Our office paid the $120 court fee and served the petition on the district attorney's office.
Approximately four weeks later, the judge assigned to the case back in 2008 granted the petition, which made the client pleased. He felt competitive again in the job market and confident that his multiple degrees would help him find employment as a professor.
For more information about expungement issues, please click on the following articles:
Trial Court That Denied Expungement Because Petitioner Given a Five-Year Joint Suspended Sentence Is Reversed on Appeal
Contact us.