Expungement & Probation Modification Case Results
Anyone who reads more than one or two of the below case summaries will realize that it is far more difficult, especially recently, to modify probation early so as to end it, particularly in certain types of cases.
If you want to read about our expungement and probation modification cases, please click on the link to the complete list of the expungement and probation modification case summaries below to read a detailed description of each case.
People v. Hawley
(1991) 228 Cal.App.3d 247, 249, 278 Cal.Rptr. 389.
In other words, a defendant is entitled as a matter of right to the benefits of Penal Code § 1203.4 upon a showing that he or she has fulfilled the conditions of probation. People v. Chandler (1988) 203 Cal.App.3d 782.
This is based upon California Penal Code § 1203.4, which provides that in any case where a defendant has fulfilled the conditions of probation for the entire period of probation and probation has terminated and the defendant is not then serving a sentence for any offense, on probation for any offense, or charged with the commission of any offense, the court must, upon defendant's application, set aside and dismiss the information. Penal Code § 1203.4, subdivision (a).
Any case is not all cases. Expungement is not available in any case where one was sent to state prison or one was convicted of violating:
California Penal Code § 288 (lewd acts with a child);

California Penal Code § 286 (sodomy with a child);

California Penal Code § 288a (oral copulation with a child); or

California Penal Code § 261.5(d) (statutory rape when the defendant is 21 or older and victim is under 16).
In our experience, it is very rare to be convicted of one of the above four offenses and not be sent to state prison.
In contrast, a motion to modify probation in any way is addressed to the sound discretion of the court. California Penal Code § 1203.3, subdivision (a) provides that "[t]he court shall have authority at any time during the term of probation to revoke, modify, or change its order of suspension of imposition or execution of sentence." See e.g., People v. Allen (1975) 46 Cal.App.3d 583, 588.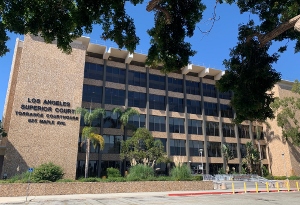 Torrance Superior Courthouse
Therefore, we find that if one is seeking to have probation ended early, it can be smart to attend additional Alcoholic Anonymous (AA) classes or Narcotics Anonymous (NA) classes if such classes were part of the terms of probation.
Likewise, if one had to perform community service, it is smart to do more community service in exchange for a better deal from the court. After all, probation is a contract with the judge and to sweeten the contract, the party seeking the improved deal ought to give more to get a better deal.
In present times, many people are struggling to find work or get a promotion. It is this reality that judges often have not experienced, being longer term government employees. Judges are often skeptical or cynical of this situation or claim. District attorneys often also have a callous attitude toward such claims unless they have some real world experience struggling to find a job.
It is therefore wise not to make such employment difficulties the only basis for the request, as judges have surely heard such arguments before. There needs to be more to the request that distinguishes the motion from all others. We find it is best to provide concrete facts or specifics that the judge can maybe appreciate.
For more information about expungement, click on the following articles:
Watch our Video about Modification of Probation and Expungement by clicking here.