Unlicensed Driver (VC § 12500) Torrance, Judicial Diversion
Our client, age 18, began driving without ever getting a driver's license. He had graduated from high school and his parents told him he was responsible for buying his own car, paying the registration and paying the insurance. He bought the car, a Hyundai Tiburon, but did nothing else.

His luck ran out one early afternoon as he was driving to his work at a restaurant in Hermosa Beach. He was running late, so he was speeding on Pier Avenue. A police officer from the Hermosa Beach Police Department pulled him over.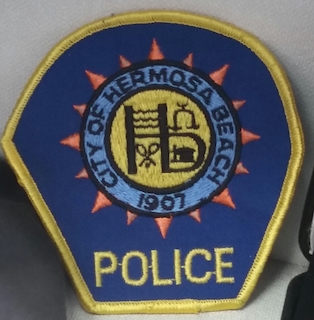 Hermosa Beach PD Patch
Our client was cited for driving without a license (Vehicle Code § 12500), as well as not having insurance (Vehicle Code § 16029) and driving a vehicle with no registration (Vehicle Code § 5204), as well as speeding (Vehicle Code § 22350).
Remarkably, while the officer had the power to impound the vehicle, he did not and just cited our client, who signed a promise to appear in the Torrance Courthouse about three months later.
In the meantime, the Coronavirus hit California and the DMV suspended all in-person driving tests, which our client had to pass to get a driver's license.
The client's mom then called our office and explained her son's situation. She thought he could handle the case himself, but realized he was too young to navigate the criminal courts as an 18-year-old. She asked Greg Hill what he thought would happen if he showed up without a driver's license "to show the judge," as she had apparently spoken to other criminal defense attorneys who led her to believe that if her son had a valid license, that would help.
Greg explained that one could request a continuance of the arraignment to permit her son more time to get a driver's license, but that may not be the only thing needed. Greg explained that it was unusual for someone to be driving with no insurance, no registration and no license, especially at age 18, so Greg cautioned that the Redondo Beach City Prosecutor's Office may also be keen to see proper vehicle registration and insurance, too.
The mom then retained Greg Hill & Associates and Greg appeared on the client's behalf for the arraignment. COVID-19 had continued to wreak havoc with DMV appointments, so Greg sought a continuance of 90 days to allow the client to get his license. Remarkably, the Redondo Beach City Prosecutor's Office only charged the client with driving without a license, a violation of Vehicle Code § 12500(a). The possible charges of driving without insurance or registration were not alleged.
After ninety days, the DMV remained closed, so Greg appeared again and asked for a further ninety days, which the judge granted.
Luckily, during the second ninety-day period, the DMV opened and our client did take his driving test and secured his license.
Greg then appeared in court and showed the license to the Redondo Beach City Prosecutor, who agreed to reduce the charge to an infraction and resolve it for a $50 fine, plus penalties and assessments.
As this was early 2021, the new judicial diversion statute was now effective at Penal Code §§ 1001.95 – 1001.97, codifying Assembly Bill 3432, so Greg, much to the consternation of the Redondo Beach City Prosecutor, sought judicial diversion from the judge instead.

The judge was equally perplexed by this, but for our client, he wanted no fines and to maintain a criminal history without even a conviction for an infraction. Besides, while judicial diversion is rarely sought on an infraction, it is available, so Greg sought it for the client.
We bring this summary to the readers' attention to show, while some prosecutors and even a judge may not consider a conviction for an infraction significant, our client may, so we push for the best result, even if another result is more convenient for the judge or the prosecutor. Here, the client and his mom were happy we pushed even for judicial diversion when an infraction was offered.
For more information about the issues mentioned in this summary, please click on the following articles: