How Does an Infraction Differ from a Misdemeanor in CA?
Certain offenses, depending upon the circumstances, may be charged as an infraction or a misdemeanor. The most common examples of this are petty theft (Penal Code §§ 484 or 490.1), disturbing the peace (Penal Code § 415) and trespassing (Penal Code § 602). There are many municipal laws as well, for example in the context of public urination and public intoxication, that can be brought as misdemeanors or infractions.
Why This Article Matters: In deciding whether to accept a plea bargain that involves a plea to an infraction, which is a conviction nonetheless, one ought to understand the huge differences it carries compared to a conviction for a misdemeanor.

As criminal defense attorneys, we always consider whether the facts of the case and the client's criminal history allow a misdemeanor to be lowered to an infraction. In discussing the facts of the case with this in mind, our clients often then ask, "what is the difference between a misdemeanor and an infraction?"
The differences are significant. An infraction does not carry with it probation, which may be significant for one's employer or future employment. Second, an infraction is the same level of crime as a parking ticket, so many employers will ask that any background check exclude your history of infractions, as they do not want a listing of your parking tickets. Moreover, an infraction is generally considered an almost insignificant crime, like not having one's dog license renewed. The punishment for an infraction is only a fine, plus penalties and assessments.
In contrast, a plea to a misdemeanor, which may be punished by up to a year in jail and fines of up to $1,000, is more significant. A misdemeanor plea may have been earned by reducing a felony to a misdemeanor, so the underlying conduct is not as trivial as in an infraction. A DUI is generally a misdemeanor, although it can be charged as a felony in certain conditions. Domestic violence can be a misdemeanor or a felony. In other words, there is more of a serious nature to a misdemeanor.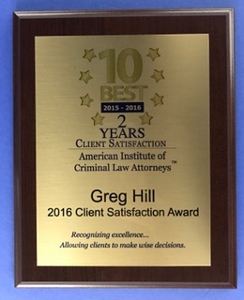 In certain cases, a plea may allow a defendant to "earn" an infraction by first completing classes or community service and perhaps other conditions. For example, a prosecutor may stipulate that if our client performs a certain amount of community service and completes an online shoplifting prevention charge, the prosecutor will amend the complaint for misdemeanor petty theft to add an alleged violation of Penal Code § 490.1, an infraction, to which the client may plead instead of to a misdemeanor. Once the defendant shows proof of completing such prerequisites and pleads to the infraction, the district attorney or city prosecutor will, under Penal Code § 1385 ("in the interest of justice"), ask the judge to dismiss the misdemeanor charge.
A misdemeanor, as the above discussion suggests, is a more serious crime than an infraction. Summary, or informal, probation almost always attaches to a plea bargain entered into by a defendant to a misdemeanor. Certain misdemeanors carry mandatory jail terms such as a second-time DUI (Vehicle Code § 23152) or a DUI with injuries (Vehicle Code § 23153), which can be brought as a felony.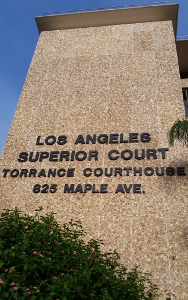 Torrance Superior Courthouse
With any misdemeanor, there is a right to a jury trial and an attorney. In an infraction, there is no right to a jury trial (or even a Sixth Amendment right to a speedy trial) or an attorney. Therefore, if the prosecution does not arraign you on an infraction for several years, you cannot object on grounds that your Sixth Amendment rights to a speedy trial were violated.
Infractions typically resolve quickly, i.e. in one to three court appearances. This is most common with traffic violations, parking violations, seat belt violations and littering. Misdemeanors, on the other hand, can take several months, or even a year, to resolve – even without trial.
A conviction for a misdemeanor can carry with it professional licensing and immigration consequences and may require a defendant to register as a sex or narcotic offender. A conviction for certain misdemeanors can also affect a person's ability to possess or own firearms for life. It is therefore very important to have a skilled and experienced attorney who is familiar with the local prosecutors to negotiate a plea bargain that avoids such consequences.
For more information about being in court, click on the following articles:
Contact
Greg Hill & Associates