Twelfth DUI, Torrance, 0.18% BAC, Probation Granted
The Gist of this Article: Not many people accumulate 12 DUI's, but our client did, in part due to her genetic predisposition to alcoholism (she was part Navajo Indian and alcoholism ran in her family). Case luckily resolved for probation due to sentencing directives introduced by Los Angeles District Attorney George Gascon and new sentencing laws.

Our client, age 55, had been released early on a nine-year sentence for felony DUI out of the Torrance Courthouse. The sentence was based on a three-year maximum for felony DUI, doubled for a prior strike, plus three one-year enhancements then-applicable under Penal Code § 667.5(b).

She has served just over a year when she wrote then-Governor Jerry Brown to commute her sentence so she could care for her elderly mother and continued alcohol addiction treatment. Surprisingly, Governor Brown commuted her sentence to time served and she was released after just about two years.
Once she was released, she was placed on parole. During this time, she was working two jobs, living in Gardena, caring for her elderly mother and attending AA meetings weekly. She had decided to stop drinking alcohol completely, as it had ruined too many lives in her Navajo family.

She managed to stay out of trouble for over a year until one evening in August when she decided to have just one drink. One drink led to quite a few more and she was driving home (her driving privileges had been reinstated by the DMV just one day prior). It was about eleven at night on a weeknight.
Our client was driving northbound on Western with her car's headlights turned off. She did not notice this because the streetlights keep the street so well lit in that area, but a Gardena police officer driving the opposite direction noticed the headlights off. The officer did a quick U-turn and pulled over our client.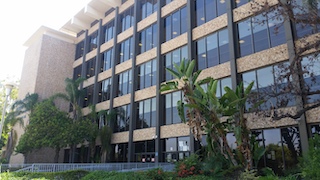 Torrance Courthouse
According to the police report, the officer immediately noticed the strong odor of alcohol and asked our client if she had been drinking. Our client initially denied drinking, but later said she had two drinks earlier in the evening.

She refused to submit to a preliminary alcohol screening (PAS) test at the scene and was placed under arrest.

After being booked at the Gardena Police Department, she was surprisingly released the next morning on a signed promise to appear in the Torrance Superior Court in about four months. As this was happening, she knew the police were making a mistake because her bail should have been set at least the statutory level for felony DUI, which for Los Angeles County is $50,000. From her experience, she also knew that $100,000 could be added to her bail for a prior conviction for a strike offense (assault with a deadly weapon from 31 years earlier). However, the Gardena Police Department fortuitously overlooked her prior history and believed it was her first DUI.
Once released, the client contacted Greg Hill & Associates and explained the case facts. She then met with Greg Hill at the office and further explained her criminal history and her expectations.
Greg explained that it would be prudent for her to begin attending AA meetings every day, if possible, and have herself fitted with a SCRAM (Secure Continuous Remote Alcohol Monitoring) anklet as a way for us to argue at the arraignment that continued own recognizance (OR) release was appropriate because, through such measures, public safety was protected.
Greg further explained that luckily for her, a new assembly bill, AB 136, appeared to be on the verge of passing that would eliminate the one-year prison prior sentence enhancement, so the client most likely would face three years, doubled for the prior strike, for a total of six years in state prison, as felony DUI was excluded from AB109 (as she understood).
The client followed Greg's suggestions and at the arraignment, despite the public safety measures taken, bail was set at $135,000, reduced due in part to arguments by Greg, but still too high for the client's family to afford and she was remanded.
Over the next few months, the client's family and Greg found a native American alcohol treatment facility for the client in Long Beach, which would be entirely paid for through her daughter's health insurance.
However, the prosecution seemed dubious of this suggested arrangement, which would mean probation for a twelfth-time DUI offenders.
While the client remained in custody, the COVID-19 crisis arrived and the client caught COVID-19 while in custody. She remained quarantined at the time of her preliminary hearing and thus, was unable to come to court.

In a fortuitous twist of events, Penal Code § 859 applied, which mandated that the judge release her on her own recognizance from jail because the preliminary hearing could not proceed.
Our client was thus released and immediately continued her quarantine in a local motel for two weeks, eventually testing negative twice and, upon Greg's suggestion, entering a sober-living home in San Pedro.
When the next hearing on the case arrived, Greg pled in the open to the judge, who heard about our client's progress in the sober living home and agreed to allow her to continue treatment there, placing her on probation, rather than remanding her to state prison.
The context of this unique case must be understood so that the reader does not believe this lucky result is possible in just any felony DUI, let alone a twelfth-time DUI such as this. We believe the COVID-19 crisis greatly benefited our client because judges were hesitant to sentence defendants to state prison on non-violent, non-serious offenses such as this and our client was undergoing treatment at a residential alcohol treatment facility. The judge was willing to let our client continue treatment, as state prison had clearly not helped her stop drinking. We caution the reader that this result was extraordinary and not likely to ever be repeated in the future.

For more information about felony DUI, please click on the following articles: