How Much Does a DUI Really Cost? $10,000? $15,000?
Years ago, there was a much publicized study that estimated the total cost of a DUI to be approximately $10,000. In other words, a DUI is not just a ticket that can be resolved with writing a check to the court. The ripple effects continue for years and can be expensive. Since then, the public has become more aware of the myriad of financial consequences that accompany even just an arrest for DUI.
Brief Synopsis: As of mid-2018, the total costs of a DUI, including increased insurance premiums resulting from the conviction, is about $13,010. This is why retaining a good DUI attorney to have charges dismissed or reduced can be a wise investment to avoid the consequences of a DUI conviction.
This article will attempt to update the $10,000 estimate with a more comprehensive evaluation and in light of fees associated with a DUI in Southern California in specific.
First and foremost, it is critical that the reader of this article acknowledge that no two DUI's are exactly that same and that something as seemingly minor as the location of the arrest, or the judge assigned to a case can make a difference of hundreds or even thousands of dollars.
Second, the estimates below are for a first-time misdemeanor DUI that is resolved via a plea bargain (no trial) with facts that do not involve someone under age 21, does not involve a car accident, does not involve any private investigator fees or retesting of the blood and does not require the client to post a bail bond to be released from jail.
Third, the estimate below does not include a fee that the CHP often bills for their response to the scene. This fee is not sought in most CHP-related cases, but it sometimes is and is approximately $650.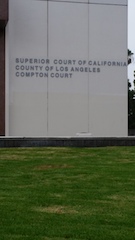 Compton Courthouse
These are the estimated expenses and fees, in approximate order of becoming financial obligations:
Towing / Impound Fees for Vehicle $500
Attorney fees $3,000 (can range quite a bit)
DMV fees $125 (license reissue fee)
Ignition Interlock Device (IID) fees $300 (varies by device)
Booking fees $330 (varies by city)
Court fines, penalties & assessments $1,950 ($390 base fine)
Alcohol awareness classes $650 (3, 6 or 9 month, varies)
Mothers Against Drunk Driving Class $35
Hospital and Morgue (HAMM) Class $120
Lost earnings due to classes, court $1,500 (varies by person)
Added car insurance premiums $4,500 (varies by insurer)
over 3 years.
Total: $13,010
If the client must post bail to be released from jail, an additional $2,000 can be added to the above amount. If one choses to go to trial, an attorney may charge anywhere from $3,500 to $15,000 above and beyond the attorney fees estimated above. If one decides to have the blood sample retested, this can add another $150 to $350 in expenses. A private investigator can add another $1,000 in fees as well.
If one loses the DMV hearing, which is not uncommon, and choses to fine an administrative appeal, the fee for such an appeal is $120. Many attorneys will do this for free (we do), but some attorneys do charge for this and such charges can be up to $1,500.
It is natural to look at the fees and seek to reduce them wherever possible. The most common area people try to save money on is an attorney. This can be foolish, as an extremely low fee attorney may not expect to spend a tremendous amount of time, if needed, on one's case. The same low fee attorney may be inexperienced and fail to defend the case in areas that will reduce the other fees. The more experienced attorney will spot more defenses or facts that help.
A very good, experienced attorney who frequently appears in the courthouse at issue can make a huge difference in the fees a client faces. Such an attorney is worth every penny, especially if the case is dismissed or reduced to a reckless driving or an exhibition of speed. Such resolutions can avoid a large amount of fees, classes and, quite often the MADD and / or HAM programs.
For more information about DUI consequences in general, please click on the following articles:
Contact us.