I Got a Felony DUI – Can I Sue the Bar or Party Host?
It is not uncommon for someone accused of DUI to comment to us that someone else was buying them drinks or encouraging him or her to drink well beyond when our client wanted to stop. Or if the person was at a private party at a home, the client may tell us the drinks were far stronger than expected.

In a Nutshell: If someone drank enough at a bar or restaurant to be impaired in his or her driving and, as a result, injured another person, the injured party generally may not sue the restaurant or bar. However, in certain circumstances, the injured party may have a viable case, as this article describes.

When someone else is injured or even killed as a result of our client being intoxicated, the family of the decedent may also want to sue the bar or the party host.
What is California law on this issue? California Business & Professions Code § 25602, known as the Dram Shop Act, generally immunizes bars and restaurants serving alcohol from liability to third parties resulting from furnishing alcohol to its patrons. That being said, § 25602 "does not preclude all actions against innkeepers [bars, restaurants, etc.] merely because they furnish alcohol." Cantwell v. Peppermill, Inc. (1994) 25 Cal.App.4th 1797, 1801.

Indeed, "the proprietor of a place where intoxicating liquors are dispensed owes a duty of exercising reasonable care to protect his patrons from injury at the hands of fellow guests." Cantwell; but see Civil Code § 1714(c) ("no social host who furnishes alcohol to any person may be held legally accountable for damages suffered by that person, or for injury to the person or property of, or death of any third person, resulting from consumption of those beverages . . . unless the person knowingly furnishes alcohol to someone he knows or should know is under 21 years of age.").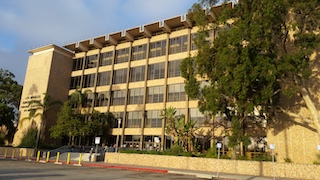 Torrance Courthouse
In other words, the Dram Shop Act's purpose is to prevent a plaintiff who was injured by a drunk driver from suing the person or entity who had served alcohol to the drunk driver. However, if the drunk patron is so clearly intoxicated and the bar continues to serve the patron, knowing that he or she will later drive, there may be liability. There is certainly liability in other contexts, where a fight erupts in the bar or in the parking lot adjacent to the bar between patrons served excessive amounts of alcohol, like in Cantwell; see also Delgado v. Trax Bar & Grill (2005) 36 Cal.4th 224 (plaintiff assaulted in parking lot of a bar); and Morris v. De La Torre (2005) 36 Cal.4th 260 (plaintiff stabbed in restaurant parking lot).
With social hosts, Civil Code § 1714(c) seems to bar any type of civil lawsuit except when the intoxicated party is a person under 21, based on a societal expectation that there is a heightened duty of care to those under 21.
This duty of extra care can extend to situations in which a social host provides the atmosphere, but no alcohol, if there exists a special relationship between the social host and the guest. This can arise simply because of the age of the guests. Allen v. Liberman (2014) 227 Cal.App.3d 206; Andre v. Ingram (1985) 164 Cal.App.3d 206.
If such a duty is imposed, plaintiff still bears the burden of proving a substantial link or nexus between the breach of the duty or omission to act and the injury. Saezler v. Advanced Group 400 (2001) 25 Cal.4th 763. This is the crucial requirement that most plaintiffs fail at and at which many defense motions for summary judgment are granted. Plaintiff must do more than just criticize defendant's policies or have an expert compare them to some industry standard. It cannot be abstract negligence that is alleged. It must be specific negligence to plaintiff in particular and this is where it can be extremely difficult to prove. Sometimes, the best way to show this is to present evidence that defendant breached its own policies and procedures that its employees were obligated to follow.
In short, the answer whether one can sue is certainly yes, but prevailing is a fact-specific and often very difficult mountain to climb.
For more information about felony DUI issues, please click on the following articles:
Contact us.