Torrance, Three Violations of Prop 36, Back into Prop 36
Sometimes, life can be complicated. At the same time, there is a saying that "the worst wounds we suffer are those that are self-inflicted" (M. Craig Barnes).
In 50 Words or Less, What Happened?: Torrance, client, a single mom with a three year old daughter, has three violations on Prop 36 in two consolidated drug possession cases, avoids jail at sentencing; ordered back into Prop 36.

Our client, when 20 in 2006, was arrested in Torrance for possession of a controlled substance (methamphetamine), a misdemeanor. It was her first run-in with the law. She was allowed to take advantage of true diversion under PC 1000 and was allowed to enroll in such a program, the completion of which would earn her a dismissal. At her first court hearing after being ordered to enroll in PC 1000, she failed to appear. In fact, she did not enroll in PC 1000 at all. A bench warrant was issued.
Before our client was able to get to the Torrance court on her own, she was arrested on a second possession of methamphetamine charge and brought to court by the Torrance police. This second arrest caused her to be removed from PC 1000. However, she still was eligible for Prop 36 for both cases and decided to take advantage of this program. The Torrance judge ordered her to enroll in Prop 36 and she did so for each case.
No sooner had she enrolled in the program than she was kicked out for testing positive. Strike One, as the Torrance court would say for each case when it allowed her to re-enroll at her next progress hearing on each case, which were not held at the same time. In other words, the client (then represented by the public defender) had to appear in court on separate dates for each case. There was never an attempt to make the hearings on the same date.
No more than two months later, she was bounced out again, this time for being late to a meeting. Strike Two, the Torrance judge said in hearings on each case when it again allowed her to re-enroll at her next progress hearing. The same judge warned her quite sternly that one more strike meant he had no alternative but to conclude county jail was where she belonged.
The client then had a baby girl and became a single mom. She realized quickly that she had to finish Prop 36 with no problems for her daughter's stability. For the first time perhaps in her life, she had a strong focus to become a stable member of society.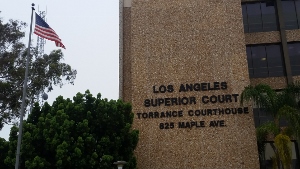 Torrance Superior Courthouse
She attended court in Torrance one more time on the 2006 case and the court set a final hearing for her to appear to earn her dismissal. With the finish line so close, she faltered and did not make it to the last few Prop 36 meetings or court because her car broke down. A bench warrant was issued.
At the next court hearing in her 2007 case, the judge noted her failure, but gave her one last chance – attend three Narcotics Anonymous meetings per week for twenty-four weeks and he would dismiss both cases. The client attended all 72, but then could not make it to court again. She did not call the court to let it know. A bench warrant was again issued.
Three and a half years passed with nothing happening until one day, her employer notified her of the bench warrant. The client's past was catching up to her and she called Greg Hill & Associates.
Greg listened to the client's story and advised her that really, the only option the judge had was to sentence her to county jail. He could not give her more Narcotics Anonymous meetings to attend or re-enroll her in Prop 36.
Greg then appeared in court and had the bench warrants recalled in each case. The case was then set for sentencing on the probation violations.
Greg prepared a Sentencing Brief, setting forth the factual background of each case and its many twists and turns. He then presented the sentencing factors applicable to the judge's sentencing evaluation under the California Rules of Court, evaluating each for the judge. Greg and the client hoped that such a show of respect would be positively received with a sentence of minimum jail time, but Greg warned the client that the judge was no push over at all, especially when the client had a pending bench warrant for three and a half years.
When asked by the client how much jail time the client could expect, Greg told her 90 to 180 days. After all, she had been given every second chance possible.
To the client's dismay, and Greg's relief, the judge proposed to delay sentencing for six months to allow the client to again enroll in and complete a Prop 36 program again. This was immediately agreed to by the client, of course. The client was so happy in the hallway outside the courtroom that she cried.
For more information about the issues in this case summary, click on the following articles:
Contact us.