Torrance, Motion to Vacate 1998 12020(a) Conviction Granted
In 1998, when our client was just 18 years old, there was a shooting nearby his house in Lennox with someone using a sawed-off shotgun. Police knew of our client as a "wanna be gang member," insofar as he had a shaved head, dressed in a "wife-beater" tank top and baggy black shorts and had a pierced tongue with a stud in place.

He often hung out in front of his house, staring at others in a menacing manner. However, he was not a gang member and police understood this.

When the shooting took place, no one was injured, but police from the Lennox station wanted to find the sawed-off shotgun. The first person suspected was our client, so they immediately went to his house and asked to search the inside.
Police found the sawed-off shotgun in the closet of our client's twelve-year old sister and asked our client if he knew anything about it being there. Sensing that his younger sister was about to be taken to jail, our client told police it was his. He was then arrested for discharging a firearm in a grossly negligent manner (Penal Code § 246.3) and assault with a deadly weapon (Penal Code § 245(a)(1)), both serious felonies and "Strikes" under California's Three Strikes Law.
Our client's parents then posted bail for their son and hired a well-respected criminal defense attorney. That attorney miraculously was able to resolve the case, through extensive plea bargaining, for illegal possession of an unauthorized firearm (Penal Code § 12020(a)), a felony, but a "wobbler." The client had to serve 180 days in county jail and then serve three years of felony probation.
At the time, our client had a valid work permit, so while he did hear the immigration warnings while taking the plea, he did not understand that such warnings did apply to him. Moreover, at that time, 1998, a criminal defense attorney did not have quite the same professional obligations to advise a client about adverse immigration consequences as he or she has now, post Padilla v. Kentucky (2010) 559 U.S. 356.
Twenty-three years later, however, our client, now 41 years old, faced deportation because when his work permit expired and he did not renew it, the felony conviction for a crime of moral turpitude from 1998 made him subject to deportation. He was now living in Arizona and a father of three, none of which even spoke Spanish. Both of our client's parents lived in the United States. Our client had no family in Mexico, where our client immigrated from at age ten. Our client had a steady job working for a Fortune 500 company.
The client spoke with an immigration attorney, who recommended that the client contact our office to discuss a motion to vacate the plea under Penal Code § 1473.7.

The client then called up Greg Hill & Associates and spoke with Greg Hill. The client explained the 1998 case, but only insofar as explaining that he told the police the gun was his to protect his sister from being arrested. The client did not explain that the weapon had been recently used in a shooting and that he was a primary suspect.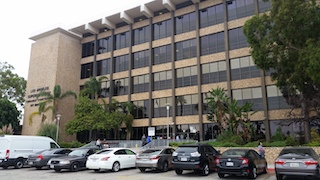 Torrance Courthouse
Greg explained how he indeed could file a motion to vacate the conviction under Penal Code § 1473.7, but that he would reach out to prior defense counsel and seek a transcript of the 1998 entry of plea, if it existed.
When Greg reached out to prior counsel, prior counsel stated that he recalled the case and provided a declaration stating that he did not discuss the immigration consequences with the client. This declaration seemed quite helpful to the client's motion to vacate.
Greg then prepared the motion to vacate the conviction, attaching the declaration from the prior attorney and a declaration from our client stating he did not understand that the immigration warnings applied to him because he had a then-valid work permit to be in the United States. Our client considered himself to be basically a United States citizen due to the work permit.
Greg then filed and served the motion in the Torrance Courthouse. The handling District Attorney advised Greg that he planned on objecting to the client's declaration, so Greg had the client attend the hearing to authenticate the declaration and be subject to examination by the judge.
The judge, however, had alternative plans. She had both counsel come back to her chambers, where she advised she planned on denying the motion on grounds of "undue delay in bringing the motion" and because it was a serious offense, which the client got an amazing resolution of back in 1998. Greg could see that this reasoning by the judge was not something the law permitted, but he also knew that protesting this would still necessitate the client appealing the ruling to the Second Appellate District.
The judge could see Greg's difficulty with the tentative ruling, commenting to him and the DA that she would agree to grant the motion if the client instead agreed to plea no contest to another crime that did not have immigration consequences for the client.
Greg then contacted the client's immigration attorney and discussed which convictions would not have adverse immigration consequences, although Greg was fairly certain of which were "safe." Nonetheless, it was prudent to discuss the plea with an immigration attorney just in case there had been some recent change in the law that contradicted Greg's understanding.
The immigration attorney and Greg agreed to have the client instead enter a plea to disturbing the peace (Penal Code § 415(2)) (disturbing another person by making or causing a loud and unreasonable noise) as a misdemeanor. The client was happy with this outcome.
For more information about Penal Code § 1473.7 issues, please click on the following articles: