PC 1473.7 Motion to Vacate Grounds: Defendant's Own Error?
On January 11, 2021, the Fourth Appellate District Court in Santa Ana issued a ruling in People v. Eun Sung Jung (2021 DJDAR 414) that expanded the scope of who could commit a prejudicial error that damaged the moving party's ability to meaningfully understand the adverse immigration consequences of a guilty plea to vacate a plea under Penal Code § 1473.7.
Brief Synopsis: A prejudicial error in a conviction sufficient for relief under Penal Code § 1473.7(a)(1) can be defendant's own error in being too intimidated by her attorney in not asking him about the personal immigration consequences of a plea to defendant.

Previously, that prejudicial error was most commonly committed by a third party, usually the moving party's attorney in failing to properly explain the adverse immigration consequences of a guilty plea. However, on January 1, 2019, in Senate Bill 2867, the California state legislature added to 1473.7 a provision that "[a] finding of legal invalidity may, but need not, include a finding of ineffective assistance of counsel." This was added in § 1473.7(a)(1).
What mattered most was whether the moving party subjectively understood that he or she personally would face adverse immigration consequences as a result of a guilty or no contest plea. Courts have found this took place when a moving party was advised of the immigration consequences, but did not understand it applied to him or her individually because counsel did not explain this or emphasize the personal consequences to the moving party in particular.
The Jung case provides a new set of facts that can also meet the 1473.7 standard and should be understood by criminal defense attorneys, prosecutors and judges who may see such facts.
Ms. Jung was born in South Korea in 1994. At the age of three, she was brought to the United States by her parents and has continuously lived in the United States since then. In 2012, United States Citizenship and Immigration Services approved Jung's application for Deferred Action for Childhood Arrivals (DACA), granted her employment authorization, and for a period of two years, deferred action to remove her from the United States.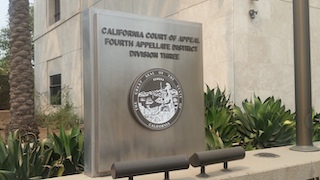 Fourth Appellate District CA Court of Appeals Santa Ana
Less than two years later, she was charged in Orange County Superior Court with one count of second-degree commercial burglary (Penal Code §§ 459, 460(b)), obtaining drugs by a forged prescription (Health & Safety Code § 11368), possession of a controlled substance (Health & Safety Code § 11377(a)), misdemeanor possession of controlled substance paraphernalia (Health & Safety Code § 11364.1(a)) and misdemeanor identity theft with intent to defraud (Penal Code § 530.5(c)(1)). This arose out of an attempt to buy medication in a Walgreen's using a forged prescription and she was found in possession of meth and a meth pipe.
A few months later, she was arrested for identify theft, sale of a controlled substance, receiving stolen property (Penal Code § 496(a)) and misdemeanor possession of drug paraphernalia.
The two cases were consolidated and she agreed to a sentence of 180 days in county jail. In entering the pleas, she initialed part of a plea form that contained warnings about the immigration consequences.
When she was released from jail, she was taken into custody by Immigration and Customs Enforcement (ICE) and five months later filed motions to withdraw her pleas in both cases.

In hearing her motions, the judge conducted an evidentiary hearing at which time she testified that her public defender handed her a bunch of forms and told her to "sign them and initial them." She spent a "couple of minutes" reviewing the forms before signing them, but said "she didn't read the whole thing." Jung testified that her public defender did not discuss immigration matters and he did not tell her that signing the forms would have immigration consequences for her.
Jung acknowledged in her testimony that the prosecutor asked her if she understood that, if she were not a U.S. citizen, her plea would result in her deportation. She testified she "was kind of scared" and not sure whether she would be deported, but she "was too intimidated" to ask questions.
In other words, the prejudicial error in entering the guilty plea was her own, not her attorney's and not the judge's or the prosecutor's. The Fourth Appellate District found that Ms. Jung's own error in being too intimidated to ask further questions satisfied the requirement for relief under Penal Code § 1473.7. Jung further showed that had she been aware of the immigration consequences, she would have passed a plea and risked a harsher sentence at trial.
We bring this summary to the readers' attention because we can see defendants who "are too intimidated" to ask questions all the time. They are scared about going to jail or prison and will agree to anything that avoids that in the short-term, without asking questions about the long-term consequences. Their public defender or their private attorney may be intimidating and the defendant may just obediently follow directions without asking questions that would be treated in a patronizing or irritated manner by the attorney.

Sadly, this probably happens every day, if not dozens of times, in courthouses within California.
The citation for the Fourth Appellate District Court ruling discussed above is People v. Eun Sung Jung (4th App. Dist., 2021) 59 Cal. App. 5th 842, 274 Cal. Rptr. 3d 93.

For more information about a Motion to Vacate a Conviction under Penal Code § 1473.7, please click on the following articles: