Torrance, Indecent Exposure (PC 314(1)), Conviction Expunged
Our client was convicted after an arrest for indecent exposure involving a sex act in broad daylight in a Ralph's parking lot in Torrance. It took place at approximately 3:00 p.m. on a weekday. The client was extremely embarrassed, as she was a straight-A student in high school and was attending college. She was madly in love with her then-boyfriend, who liked to have sex in open areas so others would see or could see, so she cooperated.
Distilled Down: Indecent Exposure (Penal Code § 314(1)) conviction expunged after client completed three years of informal, or summary probation, which included performing 141 hours of community service, payment of court fines and payment of the booking fee for the City of Torrance.

The case was resolved through a plea bargain that took into account her being forced into the conduct by threats from her then-boyfriend, although the threats did not rise to the level of coercion as defined under California law. A public defender represented the client in the underlying case.
The client was placed on three years of informal, or summary, probation and ordered to perform 141 hours of approved community service, as well as pay a City of Torrance booking fee and minimal court fines of $150, plus penalties and assessments (total of about $650).
When the client paid the fines and fees and then completed her community service, the punishment did not end. It just took on a new form in the form of being denied many jobs due to her conviction. She ultimately settled for a low paying job at a hotel, only to be terminated once the employer discovered the indecent exposure conviction.
This lasted for six years from the date of the conviction until the client came to Greg Hill & Associates, requesting that our firm expunge the conviction so it would not be a detriment to her future.
The client discussed the case with Greg Hill. Greg explained that expungement would not erase or delete the record of the case being filed against her, as well as the charges, but it would change her last plea in the case to not guilty and show the case was dismissed. Once the judge approved the expungement, the client then had the legal right to state she was never convicted of the charge.
The client said she understood and then gathered up all the documents necessary to show to a judge that she had successfully completed probation. Greg Hill & Associates then prepared a petition for dismissal under Penal Code § 1203.4, also known as expungement, to request that the judge set aside the "no contest" plea and replace it with a "not guilty" plea and then dismiss the case.
Greg Hill & Associates supplemented the petition with a memorandum to the judge explaining the factual context of the conviction, its effects on our client and the law under Penal Code section 1203.4 as it applied to our client. Our client also submitted a signed declaration explaining her completion of probation and explaining why she requested expungement.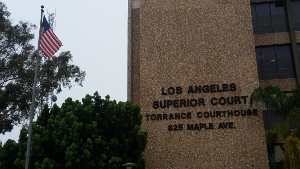 Torrance Superior Courthouse
The Torrance court judge hearing the case granted the petition, which pleased our client immensely, as she now looks forward to being able to answer "no" on most job applications to the question about prior convictions (this does not apply if she is applying for a government job or for a license of any sort with the State of California or if she seeks to operate a California state lottery). This response would also not be available if she had any other convictions that were not expunged (she had no other convictions).
She feels this expungement will help her get her life back on track.
It merits mention that relief under Penal Code § 1203.4 does not erase or delete a charge from a record. The type of charge remains on the record, however, it is shown as dismissed, which suggests to some looking at the record that it had no merit and the subject was innocent.
For more information about the issues in this case summary, click on the following articles:
Expungement Is Available for Attempted Sex Offense under Penal Code § 288 When Defendant Successfully Completes Probation
Watch our video about expungement by clicking
here
.
Contact us.