Torrance, DUI Probation Violation, New VC 14601.2 Case
Our client, as in many DUI cases, lost her DMV hearing and was convicted of DUI. In the DUI case, she had spent an early afternoon with friends at American Junkie bar on the downtown Hermosa Beach Pier Plaza. The group had enjoyed several pitchers of beer and our client headed home by 2:00 p.m.
While driving back from Hermosa Beach to Harbor City, she was involved in a three-car accident along southbound Pacific Coast Highway in Redondo Beach wherein she rear-ended one car, which was then propelled into the car in front of it. Our client, age 25, was not injured, but the two drivers in each of the cars involved were.
Our client was cooperative with police and conceded to them she was "quite drunk." Her blood alcohol content was 0.225% and 0.220% at the scene. This was her first DUI.
She was charged with a misdemeanor violation of Vehicle Code § 23153 and accepted a plea bargain to this form of DUI. She was placed on three years of informal, or summary probation with an obligation to enroll in and complete the nine-month alcohol awareness program (the AB 1353 program), pay a court fine of $390 plus penalties and assessments (less credit of $250 toward the $390 for two actual days in custody), attend the Mothers Against Drunk Driving (MADD) victim impact panel, perform 32 hours of community service, pay restitution and comply with the DMV requirements for an ignition interlock device (IID). Greg Hill negotiated this resolution for the client.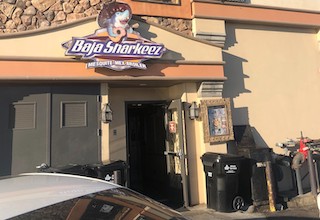 Baja Sharkeez
She also lost at the DMV hearing, which resulted in a 120-day suspension of her driving privileges. Greg Hill represented the client at the DMV hearing.
As is not uncommon with many who suffer a DUI or lose their admin per se hearing at the DUI following a DUI arrest, our client drove her car without installing an IID and while her driving privileges were suspended due to conviction and/or the loss at the DMV hearing.
Our client then faced a new case for violating Vehicle Code § 14601.2, driving on a suspended license when the driving privileges had been suspended by the DMV due to a DUI. She also could have been charged with violating Vehicle Code § 23247, driving a motor vehicle without an IID installed when so ordered by the DMV, but was not.
She not only faced a minimum mandatory ten days in county jail for the 14601.2 violation, but she also faced a probation violation on the DUI probation terms.

She came to Greg Hill & Associates for help because the public defender told her at her arraignment that the Redondo Beach City Prosecutors office wanted her to spend 30 days in county jail for the 14601.2 violation and attend 40 Alcoholics Anonymous (AA) meeting for the probation violation.

Our client had a young son (she was a single mom) and a job working at an elder care facility, so she was quite concerned about who would care for her son if she went to jail and about losing her job while she served her jail time, even if reduced significantly due to Covid-19 transmission concerns for those in county jail.
Greg was then retained to substitute in as her counsel on both the open case and the probation violation matters. He then showed the Redondo Beach City Prosecutor's Office how our client had installed the ignition interlock device, finished her AB 1353 program, finished the MADD victim impact panel and paid the court fine of approximately $900.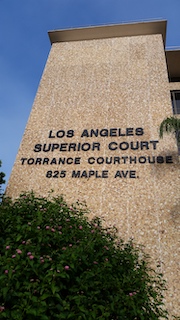 Torrance Courthouse
Greg was then able to negotiate the terms of both the open case and the probation violation down, but the terms were still rather rough: 15 days of county jail (half the original offer) for the open case for violation of Vehicle Code § 14601.2 and for the probation violation, attend 20 Alcoholics Anonymous (AA) meetings online.
Luckily, our client's mom was able to babysit the client's young son when our client surrendered for county jail time, which turned out to be a four-hour experience of being booked and released, rather than serving fifteen days in custody at the Lynwood (Century West) Regional Detention Center.
We bring this case summary to the reader's attention because it a common violation of DUI probation terms and sometimes, one cannot negotiate the violation to terms that avoid jail time for the IID violation or driving on a suspended license.
For more information about probation violations, please click on the following articles: