Probation Violation Hearing, Hearsay & Unavailable Witness
Brief Synopsis: Many people assume that a probation violation hearing is governed by the same procedural safeguards of a regular criminal trial, but this is not the law. The following summary of a recent First Appellate District opinion exemplifies how defendant's rights in a probation violation hearing still do exist.

"Although probation violation hearings involve the criminal justice system, they are not governed by all the procedural safeguards of a criminal trial." People v. Winson (1981) 29 Cal.3d 711, 716, citing Gagnon v. Scarpelli (1973) 411 U.S. 778.
For example, the Sixth Amendment right to confrontation does not apply to probation violation hearings. People v. Johnson (2004) 121 Cal.App.4th 1409, 1411.
However, stemming from the due process clause of the Fourteenth Amendment to the U.S. Constitution, courts have held that a defendant does have a due process right to cross-examine and confront witnesses at a probation violation hearing. Johnson, supra, at 1411, citing Black v. Romano (1985) 471 U.S. 606. Such a right, it must be emphasized, is not absolute, and where appropriate, witnesses may give evidence by affidavits, depositions and documentary evidence. Winson, supra, at 716.
The California Supreme Court held in People v. Arreola (1994) 7 Cal.4th 1144, 1159-1160, that, to determine whether transcripts or prior testimony may be admitted in probation revocation proceedings, consistent with due process, the judge must perform a balancing test in which the strength of defendant's interest in confrontation is weighed against the state's countervailing interests as measured by a broad standard of good cause.
The good cause standard "is met (1) when the declarant is 'unavailable' under the traditional hearsay standard (see Evidence Code § 240), (2) when the declarant, although not legally unavailable, can be brought to the hearing only through great difficulty or expense; or (3) when the declarant's presence would pose a risk of harm (including, in appropriate circumstances, mental of emotional harm) to the declarant." Arreola, supra, 1159-1160.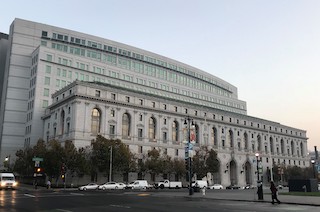 Court of Appeal First Appellate District San Francisco
It is against this legal framework that People v. Brandon Liggins, a First Appellate District Court case is significant for anyone facing a probation violation hearing.
On December 1, 2016, Liggins pled guilty to willfully inflicting corporal injury on Precious Roy, his former girlfriend. The judge then sentenced him to three years of probation, with certain conditions.
Liggins then violated his probation multiple times and each time, he was reinstated on probation with modified terms.
However, after an incident on September 10, 2018, at about 4:00 a.m., when police responded to a silent alarm at a San Francisco convenience store, the People asked the judge to revoke Liggins' probation and send him to prison.
The September 10, 2018 incident, according to the police, involved Liggins and Roy arguing outside the store, after which Liggins started punching, kicking and choking Roy. After doing this, Liggins rode away on his bike.

Officers found Roy at the convenience store when they responded to the silent alarm. She cursed at the police for not doing enough. She asked for a police badge and gun so she could shoot Liggins herself. A man then rode up to the scene on Liggins' bicycle (it was not Liggins himself) and gave Roy her car keys back.
Another officer drove off and, not far from the convenience store, found and arrested Liggins. The officer then brought Liggins back to the convenience store for Roy to identify Liggins, which she did. She was talking so fast that officers had trouble writing down her story and she repeatedly cursed at police.
Months later, Liggins' attorney stated that Roy had recanted her story. Her erratic behavior at the scene months earlier was due to a combination of her being under a controlled substance and her failure to take medication for manic depression.
At the probation revocation hearing, which the recanting Roy did not attend, Liggins' attorney objected to the admission of one officer's body camera footage, which captured Roy making statements about Liggins' conduct and another officer making statements about Roy identifying Liggins. The objections were overruled without the judge engaging in any balancing test as required under Arreola, supra. Liggins was then found in violation of probation, his probation was revoked and he was remanded to state prison for three years.
Liggins appealed the trial court's overruling the evidentiary objections to the admission of Roy's statements on body camera, arguing it was hearsay and Roy was not unavailable under the Evidence Code (§ 240).

The First Appellate District, in People v. Brandon Liggins (2020 DJDAR 8329) agreed, reversing and remanding the matter for the trial court to employ the balancing test under Arreola, supra.
We present this summary to exemplify how a probation violation and probation revocation hearing should proceed, as the fact pattern is quite common in cases we see.
The citation for the First Appellate District Court ruling discussed above is People v. Brandon Liggins (1st App. Dist., 2020) 53 Cal. App. 5th 55, 266 Cal. Rptr. 3d 777.
For more information about probation violation hearings, please click on the following articles: