What Is a Vickers Hearing for a Probation Violation?
A Vickers hearing is a probation violation wherein defendant has the right to an attorney through all stages of the hearing. People v. Vickers (1972) 8 Cal.3d 451, 461, 105 Cal .Rptr. 305, 503 P.2d 1313. This is significant because the burden of proof at a probation violation hearing is only preponderance of the evidence (People v. Rodriguez (1990) 51 Cal.3d 437, 441), far less than beyond a reasonable doubt and far less than clear and convincing evidence. An attorney defending the accused can argue that such a standard must be met and not an even lower standard, which we find is sadly what often takes place.
Counsel in a Vickers hearing is not there to prevent revocation of probation, as the judge can do so summarily once the judge believes a probation violation may have taken place by new conduct.

About This Article Briefly: A "Vickers Hearing" for a probation violation hearing is merely a request that the probation violation hearing allow defendant to be represented by counsel (and strictly follow the rule of evidence), but signals to the judge that the issue of whether defendant actually violated probation must be closely scrutinized, in a more formal manner.

At a Vickers hearing, however, counsel is there to strictly require that the prosecution prove that a violation did in fact take place in a more rigorous or formal way to justify the earlier revocation of probation. Demanding such a hearing means the judge will be more deliberate in his or hearing procedures that are set forth at Penal Code § 1203.3(b)(1). Such a hearing become more akin to a short bench trial that just another hearing. It becomes more formal and deliberate, which is good.
For example, defense counsel would want to insist that evidence of a violation still has "sufficient indicia of reliability regarding the proffered" facts the prosecution seeks to prove. People v. Maki (1985) 39 Cal.3d 707, 709. This can be frustrating for a prosecutor who is used to lax evidentiary standards. This will also make the defendant more confident in his counsel that he or she is vigorously defending him or her.
We think that requesting a Vickers hearing is good practice to ensure that the defendant's alleged violation really, in fact took place and it is not just presumed, as we find so many alleged violations truly may not have been violations at all. This is important for defendants who may later seek expungement of a conviction and if they are found in violation of probation and probation is terminated (with custody time as punishment), that defendant is ineligible for expungement of the conviction.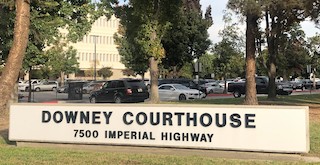 Downey Courthouse
Indeed, as of 2007, statistics showed that approximately 40% of those defendants on probation have violated probation and had probation revoked or modified under Penal Code § 1203.3 because of a violation. We believe this statistic is so high because the burden of proof for a probation violation hearing is so low that judges often find defendants in violation of probation on very thin evidence. Having a Vickers hearing, and just the act of demanding this, sends a message to the prosecution and the judge that such a hearing is going to more formal and that the evidence of a violation must be strong.
This may cause the prosecution to try to subpoena witnesses for a hearing and fail to find the witnesses. This is very common in cases of domestic violence or violation of a civil restraining order wherein the protected person moves and cannot be located easily. The prosecution may then announce that it is unable to proceed with a probation violation hearing and, consequently, the judge will reinstate defendant on probation without a violation.

Similarly, the prosecution may, in response to a demand for a Vickers hearing, seek to have a probation officer present evidence of a dirty test for drugs from defendant, but the judge may require more than just the probation officer's testimony for foundation to support the evidence, which would otherwise mean a chemist from the laboratory would need to come to court, something that is a hassle for the prosecution to secure.
In short, a Vickers hearing is a probation violation hearing that is conducted rigorously and according to the evidentiary standards California law provides. Demanding such a hearing sends a signal to the judge and the prosecutor that defense counsel is going to zealously defend his or her client in an alleged probation violation, which sadly is not too common.
For more information about probation violations, please click on the following articles:
Contact us.