The Right to a Timely Probation Violation Hearing: 3 Months?
On January 13, 2012, Carson Sheriffs detained Maiben Dorian Johnson for a possible probation violation. Sheriffs found Johnson had eighteen baggies of marijuana and four debit and credit cards in names other than his own.
Main Point: Three month lapse between arrest and probation violation hearing does not violate one's right to a timely hearing.

Less than a year earlier, Johnson had agreed to a plea bargain for two counts of second degree robbery and was sentenced to six years in state prison, suspended.
On January 18, 2012, five days after Johnson was arrested with the eighteen bags of marijuana and four debit and credit cards, the probation department filed a probation violation report.
On February 1, 2012 there was a probation violation hearing, but Johnson requested a one month continuance, which Judge Kelvin Filer in the Compton Superior Court granted. Johnson then filed a
Pitchess
motion requesting discovery of the arresting officer's personal records.
Judge Filer then reviewed the personal records and determined no material existed that Johnson requested.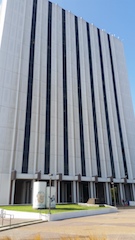 Compton Courthouse
Finally, on April 12, 2012, the court set a probation violation hearing. On this date, the prosecution requested a further continuance due to witness unavailability. The judge continued the hearing to April 27, 2012.
At this hearing, Johnson was found in violation of the terms of probation and the six year prison term, previously suspended, was imposed.
Johnson appealed the ruling, contending that the trial count violated his right to have the probation revocation hearing held within a reasonable time when it continued the hearing two weeks from April 12 to April 27, 2012.
The Second Appellate Court agreed with him that the hearing was continued without good cause, but found that Johnson suffered no prejudice from the delay.
The appellate court's opinion is significant in multiple ways. First, it should be noted to the reader that the appellate court did not refer to the Sixth Amendment in discussing the right to a speedy trial. Instead, it referred to Penal Code § 1050 (a), which states that "the welfare of the people of the State of California requires that all proceedings in criminal cases shall be set for trial and heard at the earliest possible time." 1050 (b) further requires that any party seeking to continue "any hearing" must demonstrate good cause."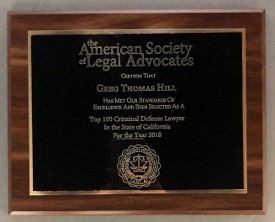 The prosecution argued that "any hearing" does not apply to a probation violation hearing. The Second Appellate District succinctly ruled that a probation violation hearing was "any hearing" in a criminal proceeding.
Turning then to whether "good cause" for a continuance had been demonstrated, the appellate court noted that a party seeking a continuance must first show it has prepared for the hearing with due diligence.
People v. Jenkins
(2000) 22 Cal. 4th 900, 1037.
In Johnson's case, the record only showed that the prosecutor advised the court that the witnesses were unavailable. The prosecution did not state for the record what efforts he made to secure the witness' presence in court on whether the anticipated testimony was material and not cumulative.
However, the appellate court noted that Johnson suffered no prejudice from the short continuance. Citing
Morrissey v. Brewer
(1972) 408 U.S. 471, at 488, the court noted that the U.S. Supreme Court found a two month delay between an arrest and a probation violation hearing was not unreasonable. A California case,
In re Williams
, found a nearly three month delay was not an unreasonable delay.
Here, there was about a three month delay, of which at least one month was requested by Johnson himself. Johnson also did not indicate that the delay caused him to lose witnesses or evidence, or otherwise hinder his ability to defend against the charges.
Consequently, the appeals court affirmed Judge Filer.
The citation for the Second District Appellate Court ruling discussed above is People v. Maiben Dorian Johnson (2d App. Dist., 2013) 218 Cal.App.4th 938, 160 Cal.Rptr.3d 621.

For more information about probation violations, click on the following articles:
Standard Sex Offender Probation Conditions Imposed in Hundreds of Orange County Cases Since 2003 Are Unconstitutional
Contact
Greg Hill & Associates