Torrance, DUI, Probation Ended Early & Expungement
Approximately eighteen months earlier, our client, age 24, entered into a plea bargain to DUI filed in Torrance Superior Court. He was placed on thirty-six months of informal, or summary, probation and required to attend a three-month alcohol awareness program (AB541), pay a booking fee to the City of Torrance ($419) and pay $390 in court fines, plus penalties and assessments to the Los Angeles Superior Court ($1,842). He was not required to attend the Mothers Against Drunk Driving (MADD) Victim Impact Panel or the Hospital and Morgue (HAM) program, which was good.
In a Nutshell: Client, age 24, has his DUI probation terminated at eighteen months into thirty-six months of informal (summary) probation. The conviction is then expunged, removing the bar that previously prevented him from several promotions and pay increases at his work.

Being on probation, albeit informal, and having a conviction prevented him from several promotions at work at an insurance company he worked at and also prevented him from getting a salary increase. While he did keep his job, he was in a holding pattern, an employment purgatory where his future was quite unclear. Until he was able to finish his probation and possibly expunge his conviction, his future would be limited.
He somehow learned about early termination of probation and expungement and called Greg Hill & Associates. Greg Hill checked into his case, ensuring that the client was eligible for such relief.
Greg did this by getting the docket report on the case from the courthouse, reviewing it and verifying that the client had indeed fulfilled all this obligations of probation, except the passage of a full thirty-six months of probation. The docket report would show that he paid his court fees and fines, paid the booking fee and completed the AB541 program by filing the proof of completion with the criminal clerk's office (Room 170 in Torrance).
The client was indeed eligible for early termination of probation. He had completed twenty of the thirty-six months of informal probation, so Greg Hill prepared, filed, served and then appeared at a hearing in the Torrance Court on a motion to modify probation under Penal Code § 1203.3(a). When our office prepares such a motion, we include a memorandum of points and authorities, advising the judge what law applies and why the judge should grant the motion. We also include a declaration from the client explaining why he or she wants to end probation early.
This motion is determined according to the judge's discretion. Our client's declaration told the judge he had been passed over for several promotions at work and salary increases because, as his employer advised him, he was ineligible because he was on probation. The client therefore wanted to terminate probation as soon as possible.
The judge granted the motion, which was a relief because not all judges grant such motions. Some judges, especially on DUI matters, ask that the client complete 20 more AA meetings before granting such a motion. The judge commented that the detailed declaration from our client describing his employment difficulties made the difference.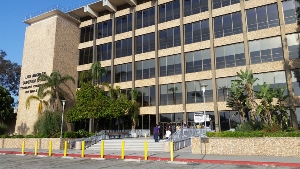 Torrance Superior Courthouse
Greg Hill & Associates then prepared, filed and served a petition for withdrawal of plea and dismissal of the case. This is also called an "expungement motion," although the word expungement is not a term used in the California Penal Code. It is a term used in other states to describe a popular process wherein a record is deleted or removed from one's criminal history, which does not happen in California. Instead, a guilty or "no contest" plea is withdrawn and replaced with a "not guilty" plea and the case is dismissed.
Here, the judge also granted the petition of our client. This was a good thing, as the judge does have discretion under 1203.4(c)(2) to deny expungement of a DUI because DUI is listed under Vehicle Code § 12810, however, the judge here did not seem to struggle with this issue.
Our client was quite happy, as his criminal history was now clear of any convictions (he had no other convictions). He was also no longer on probation, so he looked forward to increased job opportunities, being eligible for promotion and higher pay.
For more information about the issues in this case, click on the following articles:
Watch our video about expungement by clicking
here
.
Contact us.