Torrance DUI, 0.20% BAC, Probation Ended Early, Expungement
Our client, age 47, was in the United States on a green card, struggling to support himself. He was working at a rental car agency, and after a few years, was eligible for advancement.
Unfortunately, however, he was arrested for DUI in the City of Torrance. The conviction and being on probation meant he was ineligible for promotion, so he was stuck in a low-paying job.
It was his first DUI. He resolved it at the arraignment using a public defender. The terms were that he pled no contest to a violation of Vehicle Code § 23152(b) ("DUI with a blood alcohol content of 0.08% or higher) and was placed on three years of informal, or summary probation.

While on probation, there was no jail, but he had to enroll in and complete and approved three-month alcohol awareness program called the AB541 program, pay a court fine of $390 plus penalties and assessments (total of about $1,900), attend the Hospital and Morgue (HAM) program, attend the Mothers Against Drunk Driving (MADD) victim impact panel and pay the $449 City of Torrance booking fee.
He did all these things and was then told, after two years of informal probation, that he could file a motion for early termination of probation. So, he called Greg Hill & Associates and discussed his case and his employment situation with Greg Hill. Greg explained that the judge had discretion to deny the motion, so filing such a request was not a guarantee of a win by any means. With the particular judge assigned to the client's case, she had a policy of never permitting early termination of probation until the client had completed two of three years of informal probation, which the client had completed.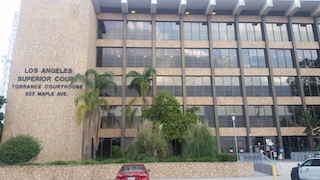 Torrance Courthouse
Greg Hill & Associates then filed a motion for early termination of probation under Penal Code § 1203.3 in the Torrance Superior Court.
The Torrance City Prosecutor's Office opposed the motion, saying the judge had no discretion to terminate probation early because the minimum statutory term of probation, according to the Vehicle Code, is three years. In other words, the judge has no discretion to alter the length of probation in a DUI, notwithstanding Penal Code § 1203.3 that says a judge may alter the terms of probation at any time.
Over the years, prosecutors have opposed motions for early termination of probation on a similar argument in domestic violence cases and with the same argument in DUI matters.
At the hearing, Greg explained that this argument was simply wrong, based on two cases. The first case is People v. Allen (1975) 46 Cal.App.2d 583, 588, which generally states that a judge has discretion to alter any term of probation at any time, including the term of probation to make it longer or shorter.

The second case is more recent, People v. Reyna Killion (2018) 2018 DJDAR 6354, wherein the Fourth Appellate District Court in Riverside held that a judge does have discretion to end probation at fifteen months of thirty-six months in a felony domestic violence case. In Killion, the prosecutor argued that the Penal Code mandated that probation last three years and the trial court judge agreed, even stating that he'd like to terminate probation early, but his hands were tied by the code section. Ms. Killion appealed the ruling to the Fourth Appellate District and the appellate court disagreed with the trial court judge, saying it did have discretion to end probation early despite the code section that suggested otherwise.

The Torrance judge ruling on our client's motion for early termination read the Killion case and discussed it in court, saying she did have authority to end probation early.
She then turned to the facts of our client's case and found good cause to end probation early so our client would be eligible for promotion at work.
The client was extremely happy with this ruling. Our office then immediately undertook to prepare a petition for dismissal under Penal Code § 1203.4 (expungement) to expunge the DUI conviction from his record.

The same judge ruled on the petition for dismissal, granting it, too.

For more information about early termination of probation and expungement, please click on the following articles: