What Will a Background Search Show After My Expungement?
The Gist of this Article: After a conviction is "expunged," one's record will show that the case is dismissed and the last plea is returned to "not guilty." The record of the case having been filed is not deleted, erased or removed like many believe expungement causes. One reviewing the record can see what the case was filed for, i.e., DUI, shoplifting, solicitation of prostitution, identity theft, forgery, etc., so the reviewer has an idea of what may have taken place.

Unfortunately, there is a tremendous amount of incorrect information commonly understood about expungement in California and what a background check will show after a judge signs an order of dismissal under Penal Code § 1203.4 ("expungement").
Many people equate expungement with the effect a sponge has on a spilled liquid. The sponge absorbs it, removes the spilled liquid, cleans it up and makes the floor or counter top seem like nothing was ever spilled. In other words, many people believe expungement erases a criminal conviction or deletes it from one's record.

This is not an accurate understanding of what expungement does for someone in California. Instead, what does happen is that one's last plea in the case is indeed changed to not guilty and the record shows that the case is dismissed. So an employer, landlord or school would see that one's case was dismissed and that the last plea one made in the case was not guilty.
The person reviewing the record may read this and think that you were mistakenly arrested, falsely accused of the crime or that the prosecuting agency dropped the case. However, the employer, landlord or school will see what the charge was and that a case in fact was at one time filed against you for that offense.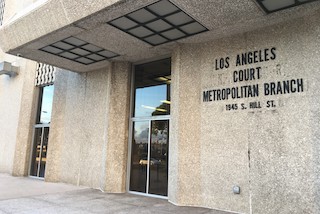 Metro Courthouse
It is important to note for the reader that there are several different types of background checks. The most commonly used background check, however, is Live Scan. It had become the background check most people submit to when an employer performs a background check on someone.

The Federal Bureau of Investigation (FBI) maintains a criminal records database called the National Crime Information Center (NCIC) which can be accessed to search for most, but not all, criminal history reports. It is not comprehensive, in other words, but if a criminal record does appear in the NCIC database, it is considered trustworthy.
An employer usually only asks for a report of one's convictions for misdemeanors and felonies. Most employers do not ask for a listing of one's convictions for infractions because infractions include parking tickets and most traffic tickets, something an employer probably is not interested in unless the job involves driving, such as being a taxi driver or school bus driver.
In other words, if one has a criminal case reduced to an infraction, the record of the infraction will not be visible to most employers using Live Scan.
It may be comforting to know, too, that California Labor Code § 437.2(c) bans an employer from considering an expunged conviction in considering an employment application for most jobs.
Live Scan is also only supposed to report criminal convictions for seven years, although some employers (i.e. law enforcement in particular) may be required by law to look deeper into one's background.

An employer also is not allowed to ask about: 1) an arrest or detention that did not lead to a conviction; 2) an arrest for which pretrial diversion was completed (this most commonly applies to drug diversion programs, but it applies to any pretrial diversion program such as delayed entry of plea or delayed entry of judgment programs); or 3) criminal records that were expunged, sealed (either juvenile or adult under Penal Code §§ 851.8, 851.91 or 851.92) or dismissed.

The last issue always worth mentioning to a client who calls about expungement is how quickly a dismissal under Penal Code § 1203.4 and change of plea back to not guilty is reflected in one's California Department of Justice (DOJ) information associated with a specific person. In other words, how quickly will Live Scan show the new person's new status as not having such a conviction? When will an employer see that a case was dismissed, rather than leading to a conviction?
Our answer is always a very unsatisfying "it varies." We have had clients report that their Live Scan report was changed within five days to reflect the case being dismissed and the last plea changed back to not guilty. Other clients call us two weeks after the judge signed the order, frustrated that the DOJ still shows the conviction and that the employer told him or her that the background report shows a conviction. We had one client who was extremely eager to become employed at a certain company and his DOJ record was still not updated four weeks after the judge signed the order of dismissal.
What we suggest is waiting two weeks and then running a Live Scan on oneself before applying for one's dream job or target job. Know what the employer will know. See what the employer will see before you report you were never convicted, which is legally one's right after 1203.4 relief, so one does not appear dishonest.

One can also electronically transmit the signed order of dismissal to the DOJ to correct a record, but this does not always expedite the change in one's DOJ record.
For more information about issues, please click on the following articles:
Contact us.