What Are My Rights of Employment As a Convicted Felon?
Being a convicted felon can leave that person feeling discriminated against and permanently unemployable, especially if the felony is for something like embezzlement from one's employer.

In a Nutshell: A convicted felon does not enjoy a protected status against employer discrimination (i.e. like race, religion, sexual orientation, etc.). An employer may refuse to hire a convicted felon as long as there is a bona fide occupational basis for so discriminating.

Well after someone has "served their debt to society" by completing time in prison and finishing parole, or even just serving time on formal probation, the scars remain, many say for a lifetime.
Perhaps the most direct punishment after the court-ordered punishment ends is that faced by a convicted felon in the employment context.
An employer can legally discriminate against a potential employee based on a prior felony conviction. Title VII of the Civil Rights Act of 1964, codified at 42 U.S.C. § 2000, does not include criminal history as a basis against which an employer may not discriminate (such as race, religion, gender, etc.). Therefore, when an employment application asks if one has been convicted of a felony, it is a legal question for an employer to ask, assuming there is a bona-fide business-related rationale for so inquiring (usually there is). It is also legal for an employer to ask if the applicant is facing a pending criminal case.
A response that fails to disclose such as criminal history, which is later determined to be false, will disqualify the employee from unemployment benefits if the employee is then fired.
However, an employer may not ask about mere arrests or detentions that did not result in convictions. California Code of Regulations § 7287.4(d)(1)(A). An employer also may not ask about drug diversion programs that were successfully completed (Penal Code § 1210.1(e)(1)) or juvenile adjudications (even for felonies) that were ordered sealed. Penal Code § 1203.47(a) – (d).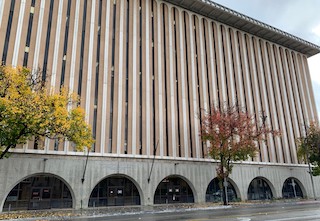 Pasadena Courthouse
An employer can also order a background check on someone applying for work. The criminal history report is not allowed to report arrests for older than seven years, any conviction for which one completed probation or parole more than seven years ago or a crime that was fully pardoned. California Labor Code § 1785.13(a)(6).
A person convicted of a felony, for example, is ineligible to serve in the U.S. Armed forces (one reason is because of the lifetime firearm possession prohibitions) unless there is a waiver signed by the Secretary of Defense. 10 U.S.C. § 504(a). A convicted felon also cannot serve as a police officer or in similar positions with law enforcement duties.
While the felon is on parole or some form of supervised release (including PRCS and mandatory supervision), employment may be restricted due to the travel restrictions imposed on the felon during this time.
A non-U.S. citizen convicted felon may also, depending upon the type of felony and its recency, be subject to removal and deportation.
A convicted felon may also be barred forever or temporarily from employment in the banking industry, as a (federal) Department of Defense contractor or subcontractor employee, a labor union organization employee, locomotive engineer, insurance companies, futures commission merchants, including as brokers, commodity trading advisors, floor traders or pool operators. The person may also experience difficulty in obtaining a transportation work identification credential (TWIC card) (we see this with longshoremen out of San Pedro and Long Beach), merchant marine license, merchant marine document or merchant marine certificate of registry.
If a person does have a felony conviction "expunged" under Penal Code § 1203.4, that person can legally answer "no" to any employment question asking if the person was convicted, at least insofar as the expunged felony except if the job applicant is applying for a California state license (other than a driver's license, i.e. an Alcohol and Beverage License to operate a liquor store, or be a real estate broker, or doctor), for authorization to operate a California lottery or submitting paperwork to run for public office.
For all these reasons – the extensive nature of legal discrimination allowed against convicted felons – we recommend every convicted felon become familiar with his or her rights to a pardon, a certificate of rehabilitation (for example, when is the earliest date one is so eligible and what are the residency requirements), as well as one's options, if any, under Penal Code § 17(b), Prop 47 and Prop 64.
For more information about the collateral effects of a felony conviction, please click on the following articles:
Contact us.