Can I Serve on a Jury After Being a Convicted Felon?
One may think that a convicted felon would never want to fulfill their civic duty to serve on a jury, but we have found this is not so. We have received several phone calls from convicted felons who are keen to serve on a jury and asked if this was possible. Some simply want to collect a small paycheck for serving on a jury.
The Gist of this Article: If one is a convicted felon, he or she cannot serve on a jury until pardoned by the Governor or until in receipt of a Certificate of Rehabilitation, each of which cannot be earned for many years after finishing probation or being discharged from parole. If the felony is reduced to a misdemeanor, this also restores one right to serve on a jury.

Under California law, a convicted felon is disqualified from serving on a jury until and unless his or her civil rights have been restored. Restoring one's civil rights is no small task, however, as it involves one being granted a Certificate of Rehabilitation or being granted a pardon from the Governor.
An expungement in California does not restore one's civil right to vote, as many attorneys incorrectly believe. However, if the felony is reduced to a misdemeanor under Penal Code § 17(b), Proposition 47 (Penal Code § 1170.18) or Proposition 64, it becomes a misdemeanor "for all purposes" (except for purposes of owning a gun) and thus, arguably, should mean the civil right to serve on a jury is reinstated.
If one was convicted of a felony in another state, California will then decide if that conviction meets the criteria of also being a felony in California. If the out-of-state conviction does fall within the definition of the same felony or a similar felony (but with, for example a different name), then the individual would not be able to vote in California.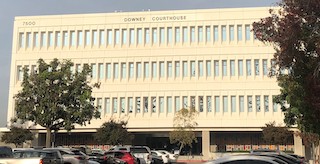 Downey Courthouse
Under federal law, one is disqualified from serving on a federal jury, grand jury or petit jury if one was convicted of any crime punishable by imprisonment for one year or longer unless one's civil rights have been restored under federal law. The only way to have one's civil rights restored under federal law is through a presidential pardon.
As one may know, the list of possible jurors is drawn from those who register to vote. However, most felons can vote, the exception being those who are serving a prison sentence in state prison (as of September 28, 2016, under AB 2466, a felon serving a prison sentence in county jail can vote) or on parole. A felon on PRCS or mandatory supervision can vote now under AB 2466. Obviously, someone who is registered to vote, but later is incarcerated in state prison or county jail for any reason (including for a felony conviction) will not be able to report to the courthouse for jury duty.
Because many convicted felons are asked to serve on a jury, such felons need to disclose this status in responding to the jury summons. If the person fails to identify oneself as a convicted felon, that person may end up serving on a jury. In many "big cases," the parties to the civil lawsuit or even a criminal case do pay private investigators to look into the backgrounds of jurors. A juror's criminal history would be fundamental information any such background check would seek.
If the trial did proceed and the juror's background later became known, this would constitute juror misconduct. In response, the judge can dismiss the "tainted juror" and replace him with an alternate. The judge can dismiss the entire jury or declare a mistrial (and order a new trial or dismiss the case).

It is unclear what action the judge would take against the convicted felon who was empaneled as a juror and later discovered to be ineligible, but one would imagine perjury certainly would one of the charges. See People v. Blackwell (1987) 191 Cal.App.3d 926 (juror gave intentionally false answers during voir dire to be acceptable as a juror in second-degree murder trial involving domestic violence); and Dyer v. Calderon (9th Cir. 1998) 113 F.3d 927; In re Boyette (2013) 56 Cal.4th 866 (juror denied any criminal history, but had several convictions). In such cases of a stealth juror, the punishment, if any, to the stealth juror is unknown.
For more information about collateral effects of a felony conviction, please click on the following articles:
Contact us.