Restoring the Right to Own a Firearm After Being Convicted
Every day, in every criminal courtroom in California, whether involving a felony or a misdemeanor, a judge will advise a defendant that he no longer has a right to own, possess or purchase a firearm for ten years. This ban is triggered in misdemeanor domestic violence cases (Penal Code § 273.5) and in all felonies under Penal Code § 12021(c)(1).
Main Point: Restoring the Right to Own a Firearm After Being Convicted in California of a Crime That Triggers a Ten Year Ban Is No Easy Task.

No judge ever advises the defendant that this California ban means the defendant will be barred for life under federal law from owning, possessing, purchasing or having control of a firearm. The statute that mandates this is 18 U.S.C. § 922(g)(8).
It is not uncommon for the defendant to, after ten years of obediently observing this state restriction, to excitedly attempt to purchase a firearm, only to be notified that he cannot. The defendant is then told of the federal lifetime ban and immediately wants to know if there is any way of setting that aside. After all, he never knew about this and was warned about this when he entered into a plea bargain ten years earlier. He feels sandbagged and tricked.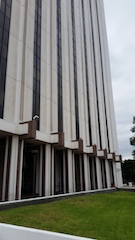 Compton Courthouse
The eager gun enthusiast then looks into 18 U.S.C. § 922(g)(8) and sees there are two exceptions to this lifetime ban. One is if the conviction is expunged or set aside. He therefore resolves to have the conviction expunged under California law. However, under Penal Code § 1203.4, an expungement in California specifically provides that it shall not affect any ban on firearm possession. The gun enthusiast feels tricked further.
The second exception to this lifetime ban, under 18 U.S.C. § 921(a)(33)(B)(ii) is if a pardon has been granted. The determined gun buyer next inquires into a pardon.
A pardon in California can be obtained through two general routes. First, there is a "direct pardon," which means the applicant directly applies to the governor. The Governor's Office website informs us that "[t]he direct pardon procedure is available to people who are ineligible for a Certificate of Rehabilitation. This procedure is used primarily by people who were convicted of a crime in California and now reside outside the state. The direct pardon procedure is also available to people who are not eligible for a Certificate of Rehabilitation because they have been convicted of specified sex offenses or misdemeanor offenses."
Therefore, a person convicted of misdemeanor domestic violence must apply for a direct pardon.
The second route to a pardon is through a Certificate of Rehabilitation. The Office of Legal Affairs has an unpublished policy to the effect that residents of California must apply for a pardon by way of the Certificate of Rehabilitation process. For that reason the traditional, or "straight" clemency process is not open to residents, but only to out-of-state residents or to those, such as certain sex offenders, who are barred from using the Certificate of Rehabilitation process at all.
When can one apply for such a certificate (then allowing application for a pardon)? Penal Code § 4852.03 says it is ten years for all felonies, sex offenses and misdemeanors. However, Governor Brown recently signed SB 530 on October 10, 2013 and among other things it created a new section of Penal Code § 4852.22, allowing trial courts to approve early Certificate of Rehabilitation applications if, in their discretion, the interests of justice are served.
Some attorneys say that this means one can apply for a certificate of rehabilitation after just five years of completing probation, but we think this is too aggressive and futile. Seven years is more appropriate, we feel, to demonstrate rehabilitation.
Once such a certificate is granted, a person may apply for a pardon. This application is an uphill battle, however, as even our governor is stingy about handing out pardons, which do in fact result in restoration of one's right to own, possess and purchase a firearm.
For more information about owning a firearm, click on the following articles:
Federal Lifetime Ban on Owning a Firearm Applies After Misdemeanor Conviction for Domestic Violence under California Law
Contact
Greg Hill & Associates