Early Termination of Probation – What Does a Judge Consider?
In today's job market, having a conviction or being on probation can mean unemployment or being fired. While the newspapers and the radio talk about economic recovery, our office continues to receive at least ten calls each month about how to end probation early (and then seek expungement of a conviction).
Why This Article Matters: In requesting early termination of probation, it is critical to sufficiently brief the change in circumstances to defendant, preferably if the change was unforeseeable, and that remaining on probation would prejudice defendant more than was foreseeable when defendant agreed to be place on probation.

Many of the callers ask questions about early termination of probation just a month or two after being placed on probation, while others ask although they have not completed their community service, paid their court fines or finished a court-ordered class. For such callers, we explain that most judges will not seriously consider a request to end probation early unless the probationer has completed at least half of the period of probation and has fulfilled all terms and conditions of probation.
We then go on to explain that judges are no longer granting such motions like they did five or ten years ago. Judges are now keenly aware that they have discretion whether to grant or deny the motion and now take a much more critical look at such requests. One judge in Torrance, for example, denies almost every single such motion and has expressed exasperation at the recently increased number of such motions she must read and consider.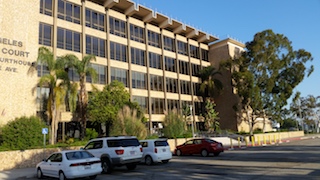 Torrance Courthouse
This article is meant to educate anyone thinking about filing such a motion about what the law is that judges may consider in ruling on such motions so that the reader makes an intelligent decision in whether to pay an attorney to draft such a motion and then appear at the hearing on it before a judge.
Under Penal Code § 1203.3(a), "[t]he court shall have authority at any time during the term of probation to revoke, modify, or change its order of suspension of imposition or execution of sentence." See e.g.,
People v. Allen
(1975) 46 Cal.App.3d 583, 588. "The court" herein refers to a judge. This power includes the ability to terminate probation "when the ends of justice will be served thereby, and when the good conduct and reform of the person so held on probation shall warrant it."
What exactly are the "ends of justice?" It is generally agreed that if a person on probation seeks to enter the U.S. armed forces and has a bona-fide offer contingent upon ending probation, good cause exists to terminate probation early as long as all other terms of probation have been completed
.
This situation is fairly rare, however, so what else could suffice? As the California Supreme Court said in
In re
Clark
(1959) 51 Cal.2d 838, 840, there must be new facts to support such a modification of probation. The new facts must be a change in circumstances that was reasonably unforeseen at the time defendant (the client) entered into the plea bargain.
People v. Cookson
(1991) 54 Cal.3d 1091, 1095.
Indeed, as many judges have stated to our office in the roughly 100 such motions we have filed, "probation is a contract with the judge." To change the terms of the contract, there must be new circumstances and both parties must agree to change the contract.
The new circumstances we often present is a change in the client's job requirements that cause the client to be unable to meet because he or she is on probation. The client may also have lost his or her job and cannot find employment at all once the employer is aware that the client is on probation. Likewise, the client may be seeking a professional license and a licensing attorney has advised that doing so would result in denial if the client applies while still on probation.
In each of these circumstances, we have seen judges agree that such circumstances merit early termination of probation and, conversely, find that such circumstances are insufficient for the judge to find the "ends of justice" would be served by ending probation early.
When judges deny such motions under such circumstances, we often face a hostile or sarcastic judge who rhetorically asks whether such conditions were reasonably foreseeable. Or the judge may remind us that the plea bargain was extremely favorable to the client and that the client should not now be so audacious as to seek to make it even better by ending probation. Indeed, the client may have been very lucky to avoid jail or prison through the plea bargain, so as the client's attorney, we must not ignore how a judge might perceive such an early termination request.
In other words, such a motion must be done carefully and with respect for the judge. If the client has previously violated probation in the case at issue or an earlier case, the judge may consider this in evaluating whether public safety is at risk. When the client has never been on probation before, in contrast, we like to remind the judge that there is no reason not to believe the client will successfully complete probation anyways because he or she has no history of violating probation.
The bottom line on such motions is that the ruling depends upon the change in circumstances and the judge's general demeanor. Some of our clients have a significant change in circumstances, but the judge will discount this almost always. Other clients have a rather small change in circumstances, but the judge is rather easy-going and willing to end probation.
For more information about probation, please click on the following articles:
Contact us.