Torrance, Driving on a Suspended License Due to DUI, No Jail
Our client had experienced a rough 2018, made rougher by an addiction to various inhalants ("huffing") that led to a non-alcohol DUI with a car accident at the corner of Carson Street and Anza Boulevard late at night. Age 26, he had graduated from high school in Torrance and, not being interested in college, began working in a Rite Aid.
The DUI, caused by huffing a chemical used to clean computer screens (Dust Off, which contains difluoroethane), was a sad situation – and it was not his first criminal case involving a controlled substance. The case was resolved through a plea bargain rather than a trial.
In the plea bargain, our client entered a no contest plea to DUI involving impaired driving due to a controlled substance and was placed on thirty-six months of informal, or summary, probation on the condition that he enroll in and complete the nine-month alcohol awareness program (the AB1353), to comply with any ignition interlock device (IID) requirement the DMV imposes, attend the Mothers Against Drunk Driving (MADD) Victim Impact Panel (VIP), attend the Hospital and Morgue (HAM) program, perform ten days of approved community labor, pay $912 in court fines and fees, pay a $546 emergency response fee and a $448 City of Torrance booking fee.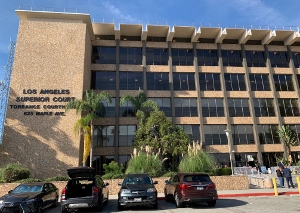 Torrance Courthouse

It was a lot to do and quite frankly, our client did his best. However, he simply could not afford to do everything.
One thing he did not do is to install the ignition interlock device and he never got his driver's license reinstated at the DMV after it was suspended due to the conviction for DUI. Instead, he drove to and from work because he had to work. To get his license reinstated, he needed to show the DMV that he had finished the AB1353 program, which he had not done.
Eventually, his luck of driving around without an IID and on a suspended license ran out one day in Torrance. Police pulled him over for making an unsafe left turn. Upon speaking to our client and running his driver's license the police discovered our client was required to have installed an IID and did not. Police also found out that our client's driving privileges were suspended, he did not have car insurance and his registration was expired.
Our client's car was then impounded and he was taken into custody.
He later faced a six-count criminal complaint in Torrance for:
Violation of Vehicle Code § 14601.2(a), a misdemeanor, driving on a suspended license that had been suspended due to a conviction for DUI;
Violation of Vehicle Code § 14601.5(a), a misdemeanor, operating a motor vehicle with knowledge that one's driver's license is suspended;
Violation of Vehicle Code § 12500(a), a misdemeanor, driving a motor vehicle without a valid driver's license;
Violation of Vehicle Code § 4000(a)(1), an infraction, driving a motor vehicle with expired registration;
Violation of Vehicle Code § 16028(a), an infraction, driving a motor vehicle without valid insurance; and
Violation of Vehicle Code § 23247(a), a misdemeanor, driving a motor vehicle without the vehicle being equipped with a functioning ignition interlock device as required when one's driving privilege was restricted.
Our client was somewhat shocked at the number of counts he faced for what he considered a rather unsophisticated, simple crime. Indeed, it was more of a regulatory offense than a criminal case involving a specific event with a victim.
However, Greg explained, the first count of driving on a suspended license due to a DUI had teeth. The punishment was a minimum of ten days in county jail and in our client's case, since he had been driving around for almost a year without a license, IID, registration or insurance, it was easy to understand if the prosecution wanted our client to spend much more than ten days in county jail.
However, Greg appeared at the arraignment in the Torrance Superior Court and surprisingly, the District Attorney seemed to understand the reality of the expense to reinstate one's license, comply with the terms of the DUI probation and keep up one's insurance and registration.
He kindly offered to resolve the case for just a violation of Vehicle Code § 14601.5(a) with no jail, but a $300 court fine plus penalties and assessments if our client could come back to court with proof of obtaining a driver's license.
Our client did this to lock in this rather kind deal and was reinstated on probation for his DUI. He was very happy to avoid any jail time, which might have meant losing his job.
Contact us.