My Driver's License Is Suspended –What Should I Do?
If you receive notice from the DMV that your driver's license is suspended, you may immediately know why and what you need to do to lift or remove the suspension.
The Gist of this Article: There are six main reasons why one's license may be suspended and how to reinstate the license depends on the reason the DMV suspended the license. To read about how to reinstate one's driving privileges, read this article.

More often, however, the driver who receives such notice is confused by the notice. This article's purpose is to help the driver navigate the process of lifting the suspension and restoring one's right to drive.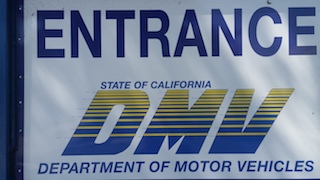 Torrance DMV
There are six main reasons why the DMV may suspended one's privilege to drive under a California driver's license. They are:
You failed to pay your tickets;
You failed to appear (FTA) in court;
You failed to pay a judgment from an accident;
You failed to pay child support;
You have too many points on your license; or
Your license was suspended after a DUI.
It is best to make an appointment online to go to the DMV to meet with someone there to make sure you know all reasons the suspension was imposed. In our experience, there can be more than one reason. Often, the client may know of one reason for certain, i.e. DUI, but there may be additional reason(s) as well that must be addressed or removed before the suspension can be lifted.
If one has unpaid tickets, one should go to the courthouse where the tickets were issued and pay the tickets or clear up a failure to appear (FTA). The unpaid ticket, if it has not been paid for quite some time, may have been referred to collections with GC Services or another collection agency. If this is the case, one must call GC Services and arrange for payment.

GC Services
If one has an FTA, it may be prudent to hire an attorney to look into the case, especially if it is a misdemeanor or felony. There may be a bail amount that the judge will not waive upon one's appearance. It is thus prudent to contact a bail bondsman if the attorney recommends this.
If one has an unpaid judgment on a civil case for an accident, the solution is pay the amount and then file a Notice of Satisfaction of Judgement in the civil case at the courthouse. The clerk in the courthouse is supposed to then notify the DMV to lift the suspension.
If one has unpaid child support, it is best to talk to the child support agency about lifting the hold and setting up a payment plan. This may be much easier said than done.
If one has a license suspension due to a DUI, the suspension may be lifted by the DMV once one finishes the DUI program (AB 541, AB 762, AB 1353, SB 38 or SB 1365, for example) or shows proof of enrollment, shows proof of installing an ignition interlock device (IID) or appears in court on a bench warrant related to the case.
One parting word of caution: do not drive on a suspended license, no matter how trivial the reason may seem for the suspension. The penalties are simply not worth it. A violation of Vehicle Code § 14601.1 carries with it a maximum punishment of six months in jail and $1,000 in fines (plus penalties and assessments that can bring the total owed to close to $4,500), two points on one's driving record and a criminal conviction that may cause one to be found to in violation of probation.
The penalties for violation of Vehicle Code § 14601.2 are far more severe: a mandatory minimum ten days in jail (and up to a maximum of six months), plus up to a $1,000 fine (plus penalties and assessments), two points on one's driving record, a requirement that one install an IID and a criminal conviction. On a second violation of section 14601.2, there is a mandatory minimum of 30 days in jail.
For more information about a suspended driver's license, click on the following articles:
What is Driving Without a Valid License (Vehicle Code § 12500 (a) or on a Suspended or Revoked License (Vehicle Code § 14601)?
Contact us.