Torrance Court, Client Has Bench Warrant for DUI, Gets Second DUI
About This Article Briefly: Client arrested by Manhattan Beach Police Department for DUI while there was a bench warrant pending for him, also for a DUI arrest about a year earlier and a pending DUI case in Inglewood Court. Second DUI case resolved in Torrance on first-time DUI terms.

Our client, age 27, had been arrested for misdemeanor DUI in Inglewood about a year before being arrested a second time for another misdemeanor DUI in Torrance.
On the Torrance DUI case, the client called Greg Hill & Associates. He explained that he was stopped while driving his Jeep Cherokee because an officer allegedly observed him doing an illegal U-turn against a red arrow facing him on Aviation Boulevard in Manhattan Beach, just south of the 405 Freeway underpass. It was 1:30 a.m. and he was driving back home from a bar. He had three passengers with him. He submitted to a Preliminary Alcohol Screening (PAS) test at the scene and his breath alcohol content (BAC) was measured at 0.15% and 0.14%.
What caused our client the most anxiety was he knew he had a bench warrant from the Inglewood court out for him, but the Manhattan Beach police did not notice this. The bench warrant was for a DUI case that our client never appeared in court for his arraignment. This was about a year before his arrest by the Manhattan Beach police. So, he was concerned his DUI in Torrance might be charged as a second DUI.
Greg explained, in response, that the client was not convicted of the first DUI, so the present DUI could not be a second-time DUI.
Greg also explained that he indeed had seen such a situation arise in a prior case or two (over twenty years of practice) and he was lucky enough to resolve both cases as first-time DUI's with no jail.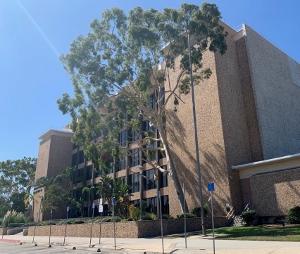 Greg also agreed that it was remarkable that the Manhattan Beach police did not at least hold the client and notify the Inglewood District Attorney's office or the Hawthorne City Attorneys that the client was in custody in Manhattan Beach and ask whether they wanted to have him sent up to the Inglewood court to appear before the judge who issued the bench warrant. However, police officers are human, so they can make mistakes just like anyone else.
The critical issue would be whether the Torrance District Attorneys handling the case would request bail on the case, given the Inglewood bench warrant. Greg and the client agreed that if the prosecutor in the Torrance case offered to resolve the case on favorable terms, that the client should seek to do so expeditiously.
Greg then appeared in the Torrance Superior Court for the client's arraignment. The prosecutor was unaware of the bench warrant for our client from the Inglewood court although the client's criminal history, provided by the prosecutor to Greg, showed the Inglewood arrest for DUI, the case filing (with a case number) and a bench warrant having been issued about a year earlier. This was lucky for our client and not a poor reflection of the Torrance prosecutor in any way, as our office and other defense counsel regard him as extremely competent, patient and professional.
As counsel for any defendant, Greg was aware that he was obligated to keep the client's best interests paramount. Greg consequently did not inform the Torrance prosecutor of the Inglewood DUI case or the outstanding bench warrant.
Instead, Greg discussed the case facts with the prosecutor and received a plea bargain offer from the prosecutor that our client plead no contest to a violation of Vehicle Code § 23152(b) and in return, he would be placed on three years of informal, or summary, probation on condition that he enroll in and complete an approved three-month alcohol awareness program (the AB541 program), that he pay a court fine of $390, plus penalties and assessments (less credit of $125 toward the base fine for one day of actual time in custody, pursuant to People v. Juan Carranza (2016) 6 Cal.App.5th Supp. 17, 212 Cal. Rptr. 3d 341) and that he obey all laws.
The prosecutor further agreed to strike the allegation of our client driving with a BAC of 0.15% or higher, which is significant because our client would otherwise have to complete a nine-month alcohol awareness program for the DMV.
The client was very happy with the resolution of this second DUI case.
For more information about DUI, please click on the following articles:
Contact us.