Torrance, 7-Year-Old Conviction for Shoplifting Expunged
In 1992, when our client was just 20 years old, our client was convicted in the Torrance Superior Court for violating Penal Code § 484(a), "petty theft."

The conviction was based on an incident at Kohl's in the Redondo Beach Galleria when loss prevention officers stopped our client after she walked out of the store without paying for certain items. They were two pairs of shoes, four bras, a package of women's underwear, a package of socks and two sweat shirts. The total value of these items was $297.20. She was then arrested and taken to the Redondo Beach police station, where she was booked and then later released.
At the time, the client was a freshman at Cal State Long Beach. She was studying engineering and having a rough time making ends meet. She had no prior criminal history up to that point in her young life.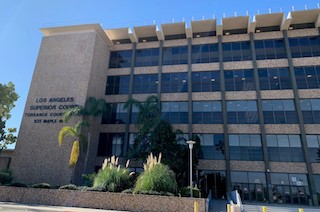 Torrance Courthouse
The terms of her plea bargain were that she was placed on three years of summary, or informal, probation, contingent upon her staying out of the Redondo Beach Galleria for three years, payment of a fine of $150, plus penalties and assessments (total of $858), payment of the Redondo Beach booking fee (then only $145) and the option of either performing 21 days of community service or writing an essay on the effects of shoplifting. She wrote the essay in lieu of 21 days of community service. She also had to pay $190 in public defender fees because she opted to uses the public defender at the time.
While on probation, in 2013, she got a job as an engineer and residential coordinator for The Ritz-Carlton/Marriott International in Downtown Los Angeles. In her position, she was responsible for overseeing construction and maintenance of all infrastructural facilities.
She then worked for the company, while she was earning her industrial engineering degree from Cal State Long Beach. She then finished her probation without incident in 2015.
In 2017, she married and had a baby girl. At that point, it did not make financial sense to pay the high monthly cost for daycare to continue working. She also wanted to spend quality time with her children while they were so young.
In 2019, a job opened up for her husband in North Carolina, so the young family decided to make the move there. She looked forward to a slower pace of life and a less expensive way of life.
Before making the move, however, she wanted to expunge her conviction because she knew she would eventually want to return to the work force and make use of her degree. She had also read that volunteering at her daughter's school might be problematic with a criminal conviction for a crime of dishonesty.
So, she contacted Greg Hill & Associates and spoke with Greg Hill about having the conviction expunged. Greg explained to her that expungement in California did not erase, delete or remove the record of the case for petty theft having been filed against her, however, it allowed her to change her last plea back to not guilty and the judge would dismiss the case. After expungement (relief under Penal Code § 1203.4), one could legally answer a question with "no" if the question asked if one had been convicted of the offense at issue. Greg explained the exceptions to this ability to answer "no" (if one is applying for public office, if one is applying to operate a state lottery, or if one is applying for a professional license with the state or a government job).
The client said she just wanted to be able to go back to work and to volunteer for things in her daughter's life in North Carolina.
Greg Hill & Associates then prepared the petition for dismissal, which is composed of a judicial counsel form (the FL-180), plus we added a short points and authorities with a declaration from our client stating why she wanted the relief sought.
The petition was then filed in the Torrance Superior Court criminal clerk's office (and we paid the $120 court fee required with such a petition) and served upon the Redondo Beach City Prosecutor's Office. The clerk at the Torrance Superior Court then set the hearing and Greg appeared on the client's behalf.
The judge graciously granted the petition and order the plea of no contest withdrawn, restoring the original not guilty plea. The case was then dismissed. This was exactly the relief the client wanted in seeking expungement. Greg then communicated the result to the client, who was very happy.
Contact us.