Torrance, 42 Days Probation, Violates, 1 Year Program
Our client, age 57, had lost his job with a Fortune 500 company two years earlier. He had always enjoyed alcohol, but discovered he did even more so when combined with prescription medications he received for depression.
Distilled Down: Torrance, client on felony probation for 42 days when he violates probation; case resolved for one year residential treatment program, three years joint suspended, five years of probation.

His mom was living alone in Torrance. He had exhausted his savings, so he moved in with her to lower his expenses and help his mom with the daily tasks of living.
Next door to his mom was a family that our client watched closely. The family seemed, to our client, to constantly stare at him over the fence. This conduct greatly bothered our client, so one day he decided to let them know he did not appreciate it.
He broke out all the windows in their two cars that were sitting in the driveway, a 2006 Infinity G35, and a 2004 Honda CRV. He then proceeded to break out all the front windows of the neighbor's house. The family retreated into a back bedroom and locked the door. They then called 911.
Police came to the house and arrested our client, who recited various passages of the Bible to the police. He was then deemed to be under the influence of alcohol and prescription medications.
Our client then spent 47 days in county jail, ultimately reaching a rather unbelievable plea bargain wherein he pled to one count of felony vandalism (Penal Code § 594(b)). He was ordered to complete a six month alcohol awareness program (AB762), serve three years of formal probation and, pursuant to a protective order, stay more than ten feet away from his neighbor's house (but allowed to move back into his mother's house).
The temptation to further contact the next door neighbor proved too great for our client, especially when combined with more alcohol and prescription drugs. Our client became convinced that the next door neighbor had offered to pay his cell phone bill, so our client put his cell phone bill in his next door neighbor's mailbox. This violated the protective order.
Our client also placed roses on the next door neighbor's front lawn and pictures of various patron saints from the Bible on her lawn as well. Our client went to church at least once a day with his elderly mom.
When the client approached and knocked on the neighbor's front door to apologize for his earlier conduct, the neighbors called 911 instead of answering the door. The Torrance Police arrived and asked our client to kneel down, with his back to them. He refused, trying to explain that he was a peaceful person.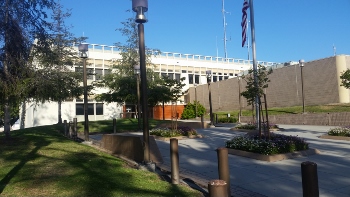 Torrance Police Department

The truth was that our client had quite a few prior convictions for assault with a deadly weapon, two misdemeanor domestic violence convictions, a conviction for DUI and two prior convictions for possession of a controlled substance and drug paraphernalia relating to methamphetamine use.
When our client would not obey police orders and police realized who he was, they used physical force to subdue him and handcuff him. He allegedly resisted arrest and, as officers struggled with him, their uniforms got dirty.
Our client was then charged with multiple counts of violating a criminal protective order (Penal Code § 166), resting arrest (misdemeanor Penal Code § 148(a)(1)), as well as trespassing.
Greg was retained by the family because our client faced four years in state prison (to be served in county jail under AB109) on the probation violation, plus another three years on all the new misdemeanor charges. The family was quite fearful that their brother would go to county jail and not get the alcohol and drug treatment he needed.
The case looked bleak, especially when the prosecutor advised as that the neighbors had recorded three other incidents of violating the protective order on their video security cameras.
Greg nonetheless proposed to the Torrance City Prosecutor that in lieu of county jail, that our client be allowed to spend a year at a residential drug and alcohol treatment facility. Quite surprisingly, the City Prosecutor agreed insofar only the new misdemeanor charges.
The District Attorney handling the felony probation violation was not nearly so amenable to this resolution. Greg had more than one face to face meetings with her and her supervisor, eventually persuading each to allow our client to spend one year at the Salvation Army residential treatment program. The deal included conditions that he pay roughly $7,400 in restitution for the broken windows, that he have three years county jail suspended, that he be placed on five years of formal probation and that he undergo fifty-two anger management classes once he leaves the Salvation Army program.
The client and his family were happy with the deal reached, but the client adamantly insisted to the end that he was a peaceful, loving person who followed the Bible. He remained convinced that he did not intend to hurt anyone or scare anyone in what he did. He is now receiving treatment at the Salvation Army.
For more information about the issues in this case, click on the following articles:
Contact us.