Torrance, 4 Counts Receiving Stolen Property, Expunged
Our client, barely age 18, got mixed up with a very bad group. She began using Xanax without a prescription and drinking quite a bit of alcohol
She was vulnerable and when a 22-year-old young man showed interest in her, she was flattered and eager to reciprocate his attention to her. He asked her to help him gather up some money, so one evening, she agreed to look into parked cars parked along a street in Torrance.
In 30 Words or Less: We represented a young lady (age 18) in Torrance, charged with 20 counts of receiving stolen property after her father called the police on her upon finding her passed out on the family room sofa with a stolen credit card in her mouth and other stolen property. We resolved the case for four counts of receiving stolen property (16 counts were dismissed). We then had her probation terminated early and the four convictions expunged.

Before asking her to do this, he had her drink several beers, smoke some marijuana and take some Xanax. He then asked her and she agreed.
She proceeded to look into about 40 cars and did find quite a bit of money, as well as other items that she thought might be of value to him. He took him the money, which is all he wanted, and she then went home with a plastic bag full of credit cards, driver's licenses and other identifying information.
She then passed out on her family room couch with the bag of stolen property on her lap. She even somehow had one credit card in her mouth. Her father found her the next morning when he got up early to have some coffee and read the newspaper. He examined her stash of stolen items and reported her to the Torrance Police Department. He even took a picture of her daughter with the stolen credit card in her mouth.
The client eventually faced twenty counts of misdemeanor receiving stolen property. Greg was able to get sixteen of the counts dismissed, but the client nonetheless did enter into a plea bargain to four counts of receiving stolen property.
The agreement obligated her to thirty-six months of summary probation, beginning with 45 days of county jail. She then had to attend 104 Alcoholics Anonymous (AA) meetings, pay a court fine of $150 plus penalties and assessments (total of $440) and pay the $435 City of Torrance booking fee.
The client did all the requirements of summary probation except the passage of time when Greg contacted her at the half way mark, asking her if she was interested in early termination of probation and expungement.
The client said she was, as she was working her way through El Camino Community College and having a tough time finding a job with the four convictions involving dishonesty on her record. She was earned straight A's and further wanted to move out of the family home and have her own apartment, but to do so, she needed to earn more money. She also wanted to pay for her tuition at El Camino and stop feeling obligated to her parents.
It is important to note to the reader here that a judge has discretion to grant or deny a motion for early termination of probation. The judge may deny the motion if he believes defendant received an exceptionally good plea bargain, which was a concern here.
Greg then filed the motion for early termination of probation under Penal Code § 1203.3, explaining to the judge that the client was experiencing severe employment consequences as a result of being on probation, for a crime of theft no less. The motion included a declaration from the client attesting to her employment difficulties.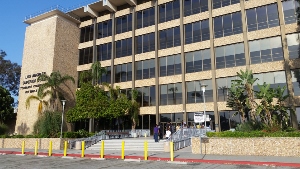 Torrance Superior Courthouse
The Torrance Superior Court judge granted the motion for early termination of probation, finding that the client had satisfactorily completed the terms of probation, except for the passage of time.
Greg Hill & Associates then filed the petition for dismissal (expungement) and the same judge granted the expungement. This gave the client the legal right to answer "no" to any employment questionnaire (except one for a government job, public office or to operate a state lottery) asking her if she had any misdemeanor or felony conviction. The client was happy with the judge's rulings.
For more information about early termination of probation and expungement issues, please click on the following articles:
Contact us.