Torrance, 2001 Grand Theft Conviction Vacated, 1473.7
While our office has filed over fifteen 1473.7 motions and all have been granted so far, we are aware of the legal standard seeming so low that judges can be angry, or at least resistant, to such motions. After all, it can seem like a person who is not a U.S. citizen can simply say "I did not know that this conviction would result in adverse immigration consequences when I pled no contest" and the judge must order the conviction vacated.

This is especially problematic when the conviction is literally for a crime of dishonesty, i.e., grand theft, as the following motion to vacate concerned in Torrance Superior Court.
Our client had been brought to the United States from El Salvador with his parents at age ten in 1976. He later earned a high school diploma in 2006 at age 30.
In 1997, he had a job working for a major insurance company in Torrance. According to the insurance company, two insureds paid him their monthly insurance premium (about $300), trusting him to then take the money to his employer. Instead, our client put the money – cash – in his own bank account. Days later, one of the insureds was involved in an auto accident and the insurance company paid out approximately $10,000 in property damage repairs.

The insurance company then told the insured that their premium was overdue and owed. The insured responded that he or she had paid our client. The insurance company then fired our client and went to the police, claiming our client owed it approximately $10,000 when in fact the loss to it was the monthly insurance premium that was lost.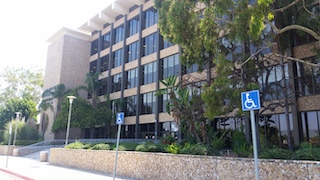 Torrance Courthouse
Our client was then charged with grand theft of $10,000 and, not understanding English and being terrified of going to jail and losing his new job. He was willing to resolve the case on any terms that avoided losing his job. He agreed to a felony with 120 days of work release wherein he spent the night in jail, but was released to go to work each day for 120 days.
When he entered the plea, he was a permanent legal resident, so he disregarded the immigration warnings about the deportation consequences of the plea. He thought of himself as having all rights of a U.S. citizen, so warnings about deportation did not apply to him, he thought.
In 2011, his permanent residency status expired due to this felony conviction, as well as another grand theft conviction.
In 2020, he received a letter from the Department of Homeland Security asking him to self-deport and return to his birthplace of El Salvador. He consulted with an immigration attorney who advised him to call Greg Hill & Associates.
The client then called Greg Hill & Associates and spoke with Greg Hill about his situation. He asked if there was anything Greg could do. Greg explained that under Penal Code § 1473.7, a defendant can request that a judge order a conviction vacated based on the conviction being legally invalid due to a prejudicial error in the "damaging the moving party's ability to meaningfully understand, defend against, or knowingly accept the actual or potential adverse immigration consequences of a plea of guilty or nolo contendere." Penal Code § 1473.7(a)(1).
Greg explained that if the client was not advised that he personally faced adverse immigration consequences as a result of his plea, there was a prejudicial error in the conviction which made it invalid. So even if the client was admonished about the immigration consequences, if the client did not understand the warnings applied to him in his case, his attorney had erred in not properly advising him. The client confirmed this, saying that his attorney just told him to sign the plea bargain paperwork and assured him everything would be fine because he would not lose his job. There was no further discussion about any other consequences of the conviction.
The client then retained Greg Hill & Associates and our office prepared, filed and served the motion to vacate the conviction. At the hearing on the motion, the judge asked that our client appear at the hearing.
No judge had requested this in the previous 15 or so such motions, so we were a bit concerned with what the judge had in mind. Obviously, it seemed he expected our client to testify about his understanding of the immigration consequences when he took the plea.
A further hearing was set in the Torrance Superior Court and we advised our client that the judge required him to appear.
On the date of the reset hearing, our client showed up 90 minutes late. Greg was dumbfounded. Our client was facing deportation and this hearing apparently was unimportant to him.
The client then testified in court and the judge and DA peppered him with questions for almost two hours. Our client gave rambling testimony that often conflicted with his earlier testimony. Despite Greg's attempts to rehabilitate the client's credibility, the client continued to offer inconsistent statements.
Finally, the judge said, "I've heard enough" and allowed closing arguments. Greg emphasized that the burden of proof on such a motion was merely preponderance of the evidence and that it was necessary to distinguish between what the client understood now, 20 years after his plea, and what the client understood twenty years earlier in entering into the plea and the resulting conviction. Therefore, a certain amount of latitude was due our client for not having a perfect memory.
The prosecution opposed the motion, arguing that our client was "gaming the system" and had a proven history of dishonesty, something that he demonstrated on the stand in his inconsistent testimony. Therefore, the motion should be denied.
The judge took a long time to decide how to rule, but granted the motion to vacate the conviction. It was perhaps the hardest, most difficult such hearing to date for Greg Hill & Associates and seemed to be a very narrow victory. Our client was extremely happy.
For more information about a Motion to Vacate a Conviction under Penal Code § 1473.7, please click on the following articles: