What Is Vacating a Conviction under Penal Code 1473.7?
Why This Article Matters: Penal Code § 1473.7 permits a person facing adverse immigration consequences from a prior conviction entered into without understanding the immigration consequences. Since 1473.7 was codified, it has since been amended to remove the requirement that defendant be currently facing deportation proceedings or a removal order and the defendant does not need to prove ineffective assistance of counsel (IAC).

President Trump's promotion of the border wall has caused greater focus on illegal immigration and deportations from the United States.
Our office has consequently had a steady stream of phone calls from people facing deportation over criminal convictions after plea bargains failed to warn the defendant that such convictions may later cause deportation.
Penal Code § 1473.7 allows a person facing deportation to vacate the conviction causing immigration problems if the attorney representing then-defendant failed to warn defendant about such consequences.
This law, effective January 1, 2017, provides that "[a] person no longer imprisoned or restrained may prosecute a motion to vacate a conviction" when "[t]he conviction is legally invalid due to a prejudicial error damaging the moving party's ability to meaningfully understand, defend against, or knowingly accept the actual or potential adverse immigration consequences of a plea of guilty or nolo contendere." Penal Code § 1473.7(a)(1). This section creates an avenue for a person no longer in custody to prosecute a motion to vacate a judgment so long as he or she files it with reasonable diligence after removal proceedings have commenced or a removal order becomes final based on the conviction being challenged. Penal Code § 1473.7(b).
The fundamental right supporting § 1473.7 is the right to counsel, secured by the Sixth Amendment and Fourteenth Amendment to the U.S. Constitution and article I, section 15 of the California Constitution. This right includes the guarantee that defendant will receive effective representation, People v. Soriano (1984) 194 Cal.App.3d 1470, 1478, 240 Cal.Rptr. 328. "The severity of deportation – 'the equivalent of banishment or exile' – underscores how critical it is for counsel to inform her noncitizen client that he faces a risk of deportation." Padilla v. Kentucky (2010) 559 U.S. 356, 130 S. Ct. 1473, 176 L. Ed. 2d 284.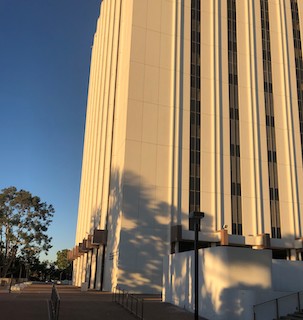 Compton Courthouse
Success on an ineffective assistance of counsel (IAC) claim requires a showing that (1) defendant's legal counsel's performance was deficient, and that (2) a defendant's defense was prejudiced by counsel's deficient performance. Strickland v. Washington (1984) 466 U.S. 668, 686, 104 S. Ct. 2052. Whether counsel's performance is constitutionally deficient "is necessarily linked to the practice and expectations of the legal community: [t]he proper measure of attorney performance remains simply reasonableness under prevailing professional norms." Padilla, 559 U.S. at 366 (quoting Strickland, 466 U.S. at 668).
Defense attorneys' duties with respect to immigration consequences are two-fold at this stage. First, they have an affirmative duty to investigate what impact a guilty plea would have on a noncitizen client's immigration status and inform the client of such impact. See, e.g., Padilla, 559 U.S. at 363; People v. Soriano (1987) 194 Cal.App.3d 1479, 1479-80, 240 Cal. Rptr. 328. Second, defense attorneys are required to try to defend against the negative immigration consequences of a guilty plea by exploring alternative dispositions that can mitigate the harm. See, e.g., People v. Bautista (2004) 115 Cal. App. 4th 229, 240-42, 8 Cal.Rptr.3d 862.
Under California law, a defendant may establish prejudice in the plea context by demonstrating that "it is reasonably probable he would not have pleaded guilty if properly advised." People v. Martinez (2013) 57 Cal.4th 555, 562, 160 Cal.Rptr.3d 67 (internal citation omitted). A defendant need not establish that he "would have achieved a more favorable outcome" had he decided not to plead guilty. Id. at 559.
Rather, the focus of the inquiry is on "what the defendant would have done." Id. at 559, 564. Additionally, there is no requirement to show that the defendant would "have insisted [instead] on going to trial." Id. at 566-67. In the case where there is evidence that would have caused the defendant to "expect or hope a different bargain would or could have been negotiated," the defendant can establish prejudice if he can show he would have rejected the plea offer in the hope that he "might thereby negotiate a different bargain, or failing in that, go to trial." Id. at 567.
Defendant should be granted relief even if the judge had given a § 1016.5 warning during the plea. The Penal Code §1016.5 warning he received from the judge during entry of his plea does not sanitize the plea and make a motion such as this moot. As the California Supreme Court has explained, [d]efense counsel clearly has far greater duties toward the defendant than has the court taking a plea." In re Resendiz (2001) 25 Cal. 4th 230, 246 [105 Cal.Rptr.2d 431], abrogated on other grounds by Padilla, 559 U.S. 356. To "construe section 1016.5 as a categorical bar to immigration-based ineffective assistance claims 'would deny defendants [who prove incompetence and prejudice] a remedy for the specific constitutional deprivation suffered." Id. 241-42 (rejecting the State's suggestion that a § 1016.5 warning should shield pleas from collateral attack).
California Penal Code § 1016.5(a) requires that "[p]rior to acceptance of a plea of guilty or nolo contendere to any offense punishable as a crime under state law . . . the court shall administer . . . [an] advisement on the record" about immigration consequences to the defendant.
However, if a defendant never discussed immigration consequences with his the-attorney, defendant would have taken the warning to be a general one that the court had to give to everyone who enters a no contest or guilty plea. He would not have understood that it applied to him. In other words, "[T]hat a defendant may have received [a] valid section 1016.5 advisement[] from the court does not entail that he has received effective assistance of counsel in evaluating or responding to such advisements." Resendiz, 25 Cal.4th at 241.
Perhaps for these reasons, California courts have considered immigrants' claims of ineffective assistance of counsel claims even where they were provided with the required § 1016.5 warning. See, e.g., Resendiz, 25 Cal. App. 3d 1470; Soriano, 194 Cal. App. 3d 1470 (granting habeas petition for ineffective assistance of counsel despite adequate § 1016.5 warning).

Contact us.