Solicitation of Prostitution of a Minor Conviction Expunged
Our client, age 36, was looking through advertisements on Backpage.com (back when it was operating, in October of 2017) and came upon an advertisement for a woman who interested him. The advertisement stated she was 19. Little did he know, but the advertisement was posted by the Los Angeles Regional Human Trafficking Task Force. So, when he texted the number and believed he was communicating with "Marilyn," he was communicating with a police officer.
Our client and "Marilyn" talked about meeting and discussed various places. In the course of the discussion, "Marilyn" asked our client if he still wanted to meet with her because she really was only 16.

Our client responded that that was not a problem with him because "he just wanted to hug her and kiss her." She then specified a place for our client to meet her, the Hampton Inn on Alberton Street in Carson. She gave him a room number, saying she already had the room. Our client agreed to pay her $200.
Our client, a non-citizen here from China, then drove to the Hampton Inn and walked up to the designated room. He knocked on the door and was immediately handcuffed by three burly police officers. Our client had condoms in his pockets and $200.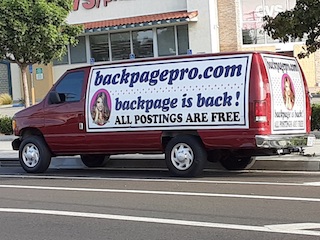 Backpage Advertising Van
He was taken to the Carson Sheriff's station, booked and released on bail (posted by his mom, who coincidentally was in the U.S. at the time) charges of violating Penal Code § 288.4(b), arranging a meeting with a minor for lewd purposes. It is a very serious crime because, while a wobbler (it can be charged as a misdemeanor), it requires sex offender registration for at least ten years under Penal Code § 290. If charged as a felony, our client could face up to four years in state prison.
Greg met with the client and his mother. Both were extremely nervous.
Greg then went to the Compton Superior Court with the client about two months later and was greatly relieved to find the case was filed as solicitation of prostitution with a minor (Penal Code § 647(b)(3)).
The case was resolved for thirty-six months of informal, or summary, probation, no jail, attendance at fifty-two sessions of Sexual Compulsiveness Classes (later changed to Sexual Addicts Anonymous), performance of thirty days of Cal-Trans and court fees of $250, plus penalties and assessments (which he converted into two more days of Cal-Trans).
The client then performed thirty-two days of tree farm work at the Marshall Canyon Tree Farm and attended all 52 SAA classes. However, due to his conviction, he was fired from his job and found it next to impossible to find a new job.
Greg Hill & Associates always follows up with former clients on probation about early termination of probation, reduction of a conviction from a felony to a misdemeanor (when applicable) and expungement (if available).

When Greg followed up with the client about early termination of probation, the client immediately responded that he was interested in this. Greg then described the process and how he could also have the conviction expunged, but was careful to explain that expungement does not erase, delete or remove the record of the case having been filed, which an employer, school or licensing agency can still see on the record. We like to clarify this issue because in other states, expungement actually erases the record of the case being filed, but this does not happen in California.
The client agreed to move forward with early termination of probation, so our office filed such a motion on the client's behalf in the Compton Courthouse. Despite the nature of the charges, the judge granted early termination of probation, which made our client very happy.
We then prepared the petition for dismissal (expungement), filed it and paid the $120 filing fee at the Compton Courthouse. We then served the District Attorney's office. The clerk's office in Compton then set a hearing date and Greg appeared in court for the client. The judge granted the petition, which made our client very happy.

For more information about meeting a child for lewd purposes, prostitution, early termination of probation and expungement, please click on the following articles: