Second-Time Shoplifting, Torrance, Conviction Expunged
Our client, age 54 in 2016, was stopped outside a HomeGoods store on Hawthorne Boulevard in Torrance, walking out to her car with two carts full of a total of 34 items. A loss prevention employee asked her if she had paid for the items inside and our client then realized that she had not done so.
The Gist of This Summary: Client convicted of shoplifting a second-time in the Torrance Superior Court, while still on probation no less for her first shoplifting case, also out of Torrance. The case was resolved for no jail, but the client was sentenced to 30 days in county jail for the probation violation. Probation on the second case was then ended early and the conviction expunged.

Our client was in a rush to buy certain items for her teenage son's party at her house and in the process of trying to move two carts along (with $366.66 of items inside), she forgot to go through the cash registers to pay for the items. This was also a problem because she was already on probation for an earlier shoplifting conviction, also out of Torrance (arising from an incident at Target in Manhattan Beach).
The client was then arrested by the Torrance Police Department, who came to the HomeGoods store and took her to the Torrance Police Station for booking.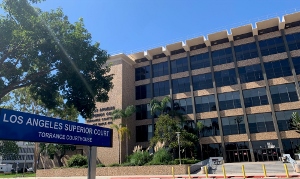 The case eventually resolved with the client being sentenced to three years of informal probation, with an obligation to pay $906 in court fees (based on a $150 fine plus penalties and assessments), payment of a $435 booking fee to the City of Torrance, completion of the National Association of Shoplifting Prevention online course and, for the probation violation, 30 days in Los Angeles County Jail. The client eventually served just two days at the Lynwood jail (also called the Century West Regional Detention Center) for women.
About two years later, she was let go by her employer, a well-known hospital, where our client had been a registered nurse for 29 years.

After dealing with the shock, she decided to open a café and gift shop in Manhattan Beach. It would be less stressful, she thought, and closer to home with an entirely new type of work.
However, her being on probation was a bar to her obtaining a business license in the City of Manhattan Beach. So she came to Greg Hill to inquire about early termination of probation and then expungement of both her shoplifting convictions.
Greg expressed concern that the judge would not allow early termination of probation because she did not successfully complete her first term of probation before being arrested for her second shoplifting offense. However, the client stated she was willing to take the risk and request early termination of probation nonetheless.
Greg Hill & Associates then prepared the motion for early termination of probation. The motion included a declaration from her business attorney stating that our client was unable to obtain a business license for her café and gift shop while she was still on probation. The motion also included a declaration from our client explaining her situation in life and the need to end probation early.
Greg Hill & Associates then filed and served the motion in the Torrance Superior Court. The motion was served to the Torrance City Prosecutor.
A hearing date was then set and Greg appeared at the hearing. Greg was nervous that the judge would discuss her concerns about the client's past performance on probation and deny the motion, holding that the length of probation was a material term.
However, much to Greg's pleasant surprise, the judge did not hesitate to grant the motion.
This was great news for the client and our office quickly then followed up with filing a petition for dismissal under Penal Code § 1203.4 (expungement). The same judge also granted the petition.

The client was very happy to put these two cases behind her and begin a new chapter in her life with her café and gift shop.
For more information about early termination of probation & expungement, please click on the following articles:
Contact us.