Second-Time DUI, Inglewood BAC 0.18%, Three-Car Accident
About This Article Briefly: Our client runs clips two parked cars in a residential neighborhood and stops. The CHP arrives at the scene; our client has a 0.18% BAC and this is his second DUI. Case resolves for a first-time BAC when the prosecutor fails to realize it was a second-time DUI.

Our client, age 27, had been out with his girlfriend, drinking at a bar. It was approximately midnight and he was driving her home. They were arguing and he was somewhat distracted by her comments.
As he headed down 136th Street in Inglewood, just about 600 feet east of Inglewood Avenue, and west of Hawthorne Boulevard, our client's BMV X3 clipped one parked car and then another. Our client pulled over immediately. The noise of the collisions caused some people living in the houses nearby to come out on the street to see if anyone was injured and if their cars were damaged.
According to one witness, our client came to a stop, but then tried to leave the scene, but his car was too damaged to drive away. Our client's girlfriend was not injured and neither was our client.
Eventually, CHP officers arrived in the residential neighborhood and allegedly observed our client display "objective signs of intoxication" such as having blood-shot and watery eyes. He admitted to consuming a few mixed drinks earlier in the evening, but officers described him as having a steady gait (despite being in a car accident) and did not describe any mental impairment. He apologized for the incident to police and explained that his brakes were not working properly. He later told police his girlfriend was driving, but officers gave this little weight after he had explained his trying to use the brakes, but finding them ineffective.
CHP officers asked our client if he wanted to submit to a preliminary alcohol screening (PAS) test and he declined, which is his right under Vehicle Code § 23612(i). He was then arrested on suspicion of DUI.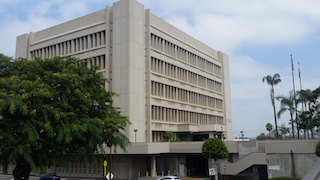 Inglewood Superior Court
Our client had been to a police station before. In fact, he had just received his first DUI about a month earlier in nearby Redondo Beach. He had also served five years in state prison for a conviction for assault with a deadly weapon and been convicted several times of public intoxication. Greg Hill & Associates had represented him on one of his two juvenile offenses ten years earlier.
Once at the police station, our client provided a breath sample that showed his blood alcohol content (BAC) was 0.18%. Police held our client for the evening, until the early afternoon, before releasing him. Two months earlier, he had just completed parole from his prison sentence and he otherwise for merely on informal probation for a 647(f) conviction ("public intoxication").
The client called up Greg Hill & Associates without realizing Greg had represented him ten years earlier. Greg, however, immediately recognized the client's name and asked how the client was doing, what he had been doing since his juvenile case and how his parents were doing. Greg remembered the client's parents as both being realtors and his mom having some health issues.
The client then described the facts of the case and his first DUI just weeks earlier.
Greg explained how the Inglewood City Attorney may be assigned the case and how such cases, especially with a car accident and a high BAC, are handled. However, Greg commented that in car accident cases, the time of the client last driving is often not documented, which can mean any BAC measured is legally irrelevant as being possibly outside the three-hour presumption provided at Vehicle Code § 23152(b).
Vehicle Code section 23152(b) states:
In any prosecution under this subdivision, it is a rebuttable presumption that the person had 0.08 percent or more, by weight, of alcohol in his or his blood at the time of driving the vehicle if the person had 0.08 percent or more, by weight, of alcohol in his or his blood at the time of the performance of a chemical test within three hours after the driving. (Emphasis added).
The client then retained Greg Hill & Associates. Greg appeared at the arraignment in the Inglewood courthouse, expecting the initial offer to be quite punishing, i.e. five years of informal probation, at least 20 days of county jail (for the accident and for the second DUI within a month of the first), at least a $500 fine plus penalties and assessments, the eighteen-month DUI program (SB38), the Hospital and Morgue (HAM) program and the Mothers Against Drunk Driving (MADD) victim impact panel, plus restitution to the owners of the cars damaged in the crash. This would be a "standard" second-time DUI offer one might expect under the circumstances.
The Inglewood City Attorney, however, did not read the client's criminal history carefully and believed the DUI was our client's first DUI, so the offer was 36 months of informal, or summary probation, a $390 fine plus penalties and assessments, a six-month alcohol awareness program (AB762) and restitution.
Greg recommended that the client accept the offer without trying to negotiate the six-month class to a three-month class, especially with his BAC. The client agreed, happy that luck was on his side for once in his life.
For more information about second-time DUI issues, please click on the following articles:
Contact us.