Santa Ana, Prop 47 Petition for Resentencing, PC § 459
More than 23 years ago, in 1995, our client pled no contest to a felony violation of Penal Code § 459, commercial burglary. He was 19 years old and a recent immigrant from Israel.
The events leading to this plea were that our client and his two friends were arrested by the Fountain Valley Police Department for forgery related to use of a credit card (Penal Code § 484f(b)) and credit card fraud (Penal Code § 484(g)). It was alleged in a criminal complaint in the Santa Ana courthouse that he and two companions entered a Fry's Electronics store during normal business hours and used a fraudulent credit card to buy approximately forty-two CD's. The value of the CD's was $582.
The terms of the plea bargain were that our client was sentenced to one-hundred and twenty days in county jail, with a credit for forty days already served and twenty days good conduct.
The reader of this summary may find the terms of the plea bargain very harsh, but it was negotiated in light of two other cases pending against our client at the same time. At the time, he was also facing two other felony cases, one related to a scheme in Nordstrom's in Glendale wherein he would shoplift expensive neckties and then return to the store for a cash refund. His other felony case was far more sophisticated and involved our client installing cable TV boxes that used proprietary codes obtained from an inside employee within the cable company to obtain cable television for free of all channels.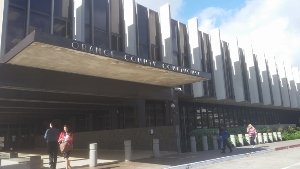 After serving his 120 days, less credit for time served, he successfully completed the terms of probation. He then turned his life around, enrolling in a community college and later transferring to UCLA, from which he graduated.
He then started a family and worked in various capacities. Finally, he settled into the bail bond industry and worked his way up to the top of one particular company. He managed the daily operations, including marketing, advertising, risk management, payroll and scheduling.
He employed several people that relied on his business to support their families. However, he could not obtain a bail license because of his felony conviction on his record. So he had to employ others to obtain such a license and then he would do the "heavy lifting" for the business, at least as much as he could without acting in the capacity as a licensed bail bondsman.
At the same time, he yearned to travel back to Israel to show his family his birthplace and visit relatives still living there. However, with a felony conviction, he could not obtain the necessary travel documents.
The Prop 47 was passed in November, 2014, allowing resentencing on certain theft-related felonies with $950 or less stolen and certain drug possession convictions.
The client came to Greg Hill & Associates and asked if he could help. Greg listened to the client explain his multitude of cases and said he would try. Greg cautioned him, however, that a judge had discretion to deny resentencing of the felony commercial burglary charge given that the client had been involved in not just two, but three, cases simultaneously.
Greg then filed the petition for resentencing in the Santa Ana Superior Court, anxious that a tough Orange County judge would deny the petition, which included letters of recommendation from his neighbors, co-workers and even his wife. The petition also included photocopies of photographs and awards he had received.
Santa Ana Superior Court refers such petitions for rulings in chambers by the judge. In other words, the judge reviews the petition in his office with no hearing at all. This naturally made our client and Greg more nervous because a judge could be tougher when he is alone and not obligated to explain his ruling or rationale.
However, in this case, about four weeks after our office filed the petition, the District Attorney's Office in Santa Ana filed a Notice of Non-Opposition to the motion. Presumably, the District Attorney's office reviewed our client's criminal history and all its warts before taking such a position.
Then about two weeks later, the judge's ruling granting the petition and reclassifying the offense as a misdemeanor was received. We note this great result with some irony, however, as money bail was abolished in California in late August 2018 with Governor Jerry Brown signing SB10, meaning the client's only barrier to becoming a licensed bail agent was removed only to have bail abolished in California.

For more information about Proposition 47, please click on the following articles:
Contact us.