Are Theft by Forgery Convictions Over $950 Prop 47 Eligible?
Erin Anne Hoffman was charged with eighteen counts of felony forgery for forging her parents' signatures on their checks (Penal Code § 470(d)), one count of fraudulent use of an access card for using her friend's bank card (Penal Code § 484g(a)) and one count of grand theft of property with a value exceeding $950 for the aggregate forgery of her parents' checks (Penal Code § 487(a)).
These crimes allegedly occurred in Ventura County in early 2014. Hoffman was a nineteen year old heroin addict with a borderline personality disorder. She took a booklet of checks from her parents and, over the course of three months, wrote checks to herself and signed them with her parents' signatures. The checks varied in value from $150 to $450 and totaled $8,734. The ATM withdrawal from her friend's bank was $25.
The Reader's Digest Version: Prop 47 can apply to reduce multiple felonies involving forgery to misdemeanors. The Ventura County Superior Court was reversed when it denied the Prop 47 petition after adding up all the forged checks to be over $950.

Hoffman had no prior convictions and she was not a registered sex offender, which is relevant as it later made her eligible for resentencing under Proposition 47 once it was passed.
Through plea bargaining, she pled guilty to seven counts of felony forgery. The check amounts in the seven counts she pled guilty to were $325, $400, $280, $350, $325, $350 and $175. At the time of her plea, which was before Prop 47 became law, Penal Code § 470(d), forgery, was a "wobbler," meaning a sentence for violating it could be punished as a felony or a misdemeanor. The remaining 13 counts were dismissed.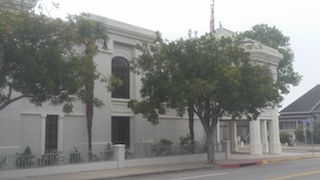 2nd Appellate District Division 6 Ventura
When Hoffman entered her plea, she entered into a Harvey waiver (People v. Harvey (1979) 25 Cal. 3d 754), which allows a court to consider the facts underlying the dismissed counts in determining the sentence for the counts to which a defendant pleas. This meant Hoffman faced a total of up to seven years in county jail (her sentence would be in county jail due to AB109).
In June, 2014, the trial court sentenced her to formal felony probation with a suspended sentence of seven years, but also sentenced her to 180 days in county jail. One month later, she was released from county jail to a residential drug treatment program. Once there, she violated probation twice by using a controlled substance and was sentenced to another 60 days in jail. Once out of jail, she absconded from the residential treatment facility in October. She was caught again and ordered to serve another 120 days in county jail.
In November, 2014, California voters passed Proposition 47, which reclassified forgery as a misdemeanor if the value of the check does not exceed $950. This was the new Penal Code § 473(b) passed into law with Prop 47.
The logical question was thus, could Hoffman now seek to have her seven felony convictions for forgery reduced to misdemeanors? Hoffman filed her petition with the Ventura County Superior Court, which denied her petition because the total amount of the checks exceeded $950, which it indicated "takes her outside the spirit of the law that was passed by voters."
Hoffman then appealed the ruling to the Second Appellate District, which reversed the trial court. The appellate court reasoned that Penal Code § 473 does not employ "a total amount" approach. Each check is considered individually. Moreover, the appellate court recognized the trial court's motivation to change Hoffman's behavior, but opponents to Prop 47, before it was passed, expressed similar concerns. Voters, however, passed Proposition 47, so such issues were resolved, barring a judge's use of discretion as the judge did in Hoffman's case at the trial court. As the appellate court stated, a judge may not undertake to rewrite a law's unambiguous provisions (
People v. Goodliffe
(2009) 177 Cal.App. 723, 726).
We think this is a good ruling for a young lady who hopefully can get back on her feet without a felony scarring her future. Indeed, she did make some very poor decisions in committing the drug related thefts over a three month period in her life, but if she can overcome her drug addiction, she should be able to move forward without the stigma of having multiple felonies to her name.
The citation for the Second Appellate District Court ruling discussed above is People v. Erin Anne Hoffman (2d App. Dist.,2015) 241 Cal.App.4th 1304.

For more information about the issues in this case, please click on the following articles:
Contact us.