Santa Ana DUI, 0.17% BAC, Dismissed on Serna Motion
The Gist of this Article: Orange County DUI case dismissed on Serna Motion after eight years pass following our client's arrest after he collided with a tree, breaking his hip and having a 0.17% BAC. Client was unable to sign the promise to appear in court.

In 2012, our client was a 21-year-old college student on a partial scholarship playing football for a small college in Orange County. One night, he met up with some friends at a TGIF restaurant in Newport Beach and had at least two Long Island ice-teas.

At about midnight, he decided to head back home to the Fullerton area, but only got about a mile before falling asleep behind the wheel and running into a tree at the corner of Bristol and Memory Avenue. An off-duty police officer was driving behind him at the time and witnessed the collision.
The collision was serious, the force of which broke our client's left hip and put him in extreme pain. Paramedics rushed to the scene and sedated him before he was taken by ambulance to the hospital for emergency surgery.
The chaotic events did not seem to matter to the Orange County Sheriffs investigating the crash, who immediately suspected DUI and followed the ambulance to the hospital, interviewing our heavily sedated client in the emergency room. Despite his being medically sedated and in extreme pain, officers attempted to have our client perform field sobriety tests, but our client was unable. They also interviewed him about his consumption of alcohol and a blood sample was taken.
The officer who interviewed him allegedly told our client that he was being arrested for DUI and allegedly told him when to report to the Santa Ana Superior Court for his arraignment. The officer then obtained our client's thumb print on the ticket because our client was unable to sign the ticket due to his condition.
Our client's blood alcohol content (BAC) was measured days later, after our client had been discharged, and was 0.17%.
When our client was discharged, he was confined to his bed for several weeks due to his broken hip. He then had to endure several months of rehab. His football scholarship was given to another player and our client eventually moved back to Florida in 2015, three years after the car accident.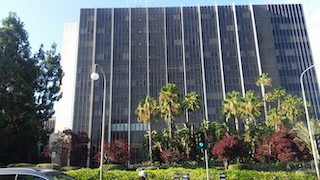 Santa Ana Courthouse
Our client never went to court because he never knew he was obligated to.

In 2020, however, his employer (the client was now in Orlando, Florida) notified him that there was a bench warrant for his arrest pending out in Orange County since 2012. The employer told him that the client would be fired if he did not resolve it.
The client called Greg Hill & Associates and explained what he thought the warrant was all about. Greg asked the client if he ever was given a notice to appear or did he sign a promise to appear in court. The client's answer was he did not know.

Greg then explained that if the client had not signed a promise to appear in court, Greg Hill & Associates could file a motion to dismiss the case for deprivation of the client's Sixth Amendment right to a speedy trial because more than one year had passed since the incident alleged as a crime. Greg explained how there was a federal standard for dismissal and a state-court standard and that they were slightly different. The state court standard is mainly based on Serna v. Superior Court (1985) 40 Cal.3d 239, 707 P.2d 793, 219 Cal. Rptr. 420 and its progeny, so the motion is commonly called a "Serna motion."
First and foremost, Greg went to the Santa Ana courthouse and had the bench warrant recalled. To Greg's relief, the client had not signed a promise to appear, but the promise to appear was notated by the arresting officer with "Suspect unable to sign," which the officer attempted to fix by having the client offer his fingerprint on the promise to appear instead.
Greg filed the Serna motion and eventually, there was a hearing. The Orange County District Attorney's Office filed a written opposition and demanded a hearing with the police officer who made the arrest. The officer, quite luckily for our client, testified that he did not think he gave our client a copy of the ticket with the notice to appear.
This was critical, unexpectedly helpful testimony for our client and the judge granted out motion to dismiss. The Orange County District Attorney who was earlier very condescending and even rude to Greg, was clearly upset.
Our client was extremely happy with this good news.
For more information about the Right to a Speedy Trial and Serna issues, please click on the following articles: