Riverside, Reduction of Felony H & S 11359 to a Misdemeanor
In 1991, our client, then age 28, was addicted to marijuana and sometimes sold it to fund his addiction. He never sold to minors, nor to any other individuals he did not know, no weapons were ever involved, and no one ever suffered physical injuries. In the same year, 1991, he was arrested by the Riverside County Sheriffs and then charged with possession of marijuana for sales, a violation of Health and Safety Code § 11359, a felony. He had just enough marijuana for personal use.
At the arraignment, he entered into a plea bargain to resolve the case. He was sentenced to 90 days in Riverside County Jail, three years of formal probation and ordered to pay restitution.

Our client fully complied with all terms of probation and probation ended in February 1994. He served his time on weekends, working at a county landfill, helping others.
More than twenty-six years later, amidst the Covid-19 pandemic, he was laid off from work.

He found work at a new job as a dispatcher / driver manager for a transportation company, but it did not pay enough to cover his expenses. He was extremely interested in a change of employment, but due to this felony conviction on his record, he hesitated to apply because he anticipated each potential employer would run a background check, his status as a convicted felon will be revealed and his application for employment will be denied. He was an experienced dispatcher, but he cannot advance in other companies due to this felony conviction.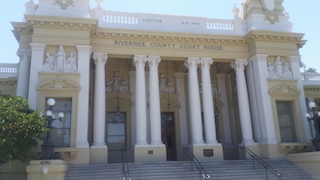 Riverside Superior Court
The client then called Greg Hill & Associates to explain his situation and discuss reducing his felony conviction to a misdemeanor under Penal Code § 17(b)(3), as he also wanted to regain his firearm rights.

He explained his earlier conviction and employment history. He also described how he had a strong reputation in his community as a responsible, helpful individual.

Greg explained that a violation of Health & Safety Code § 11359, due to Prop 64, is now a misdemeanor for all defendants except those with a criminal history involving serious or violent felony convictions, convictions requiring registration under Penal Code § 290 (sex offenders) or those with a prior criminal history for selling marijuana, or those who sold marijuana to minors.
Greg explained how he could prepare, file and serve a motion to reclassify the client conviction for violation of Health & Safety Code § 11359 to a misdemeanor. Our office would then appear in court for a hearing on it, if so set by the judge. We also would seek expungement of the conviction for employment purposes for our client.
The client then hired Greg Hill & Associates and our office prepared the motion. The motion included a declaration from our client explaining his employment situation due to COVID-19 19 and how he lived with his wife of almost 18 years. It stated that they have no children. He declared that he has been able to financially support himself and his wife with his income. However, he would like to earn a higher income with the cost of living increasing. He realizes that with this felony conviction, he will not be able to reach his goals and increase his income. The motion included a photograph of our client and his wife, as well as a copy of the docket from his case from almost 30 years ago.
The motion was also filed with a petition for dismissal of the complaint (expungement) under Penal Code § 1203.4.
Our office then filed the motion and the petition in the Riverside Superior Court and served both upon the Riverside District Attorney's Office.

About two months later, the judge granted the motion and the expungement in chambers (normally there would be a hearing, but due to Covid-19, he conducted a hearing without counsel in his chambers) and mailed our office his signed order.
We pdf'd a copy of the signed order and e-mailed it to our client, who was overjoyed at the new lease on life.
For more information about Penal Code § 17(b) issues, please click on the following articles: