Redondo Beach Shoplifting Conviction Expunged Torrance Court
Our client and her twin sister were both caught shoplifting at Macy's in the South Bay Galleria. Loss prevention inventoried the items in our client's shopping bag and found a red shirt, a black blouse and cosmetics worth a total of $247.49. Our client's sister took similar items worth $188.37.
The case was a bit more problematic for our client and not just because the dollar value of the items taken was higher. She was a single mom raising two young boys. She had a new job, which she was very thankful for, but she also had a prior DUI from 2004 in Downey and a 2015 DUI from the Metropolitan Courthouse (so she was still on probation when she landed her recent job).
Making matters tougher for her, her new employer asked her to apply for and obtain her property and casualty insurance certification, but she could not do so while on probation. Moreover, having a conviction for a violation of Penal Code § 459.5 (the new code section for shoplifting under Proposition 47) would be a problem.
Our office usually follows up with each client on probation or otherwise eligible for early termination of probation and expungement at about a month prior to reaching half-way in one's probation. We ask the client if he or she is interested in early termination of probation and expungement.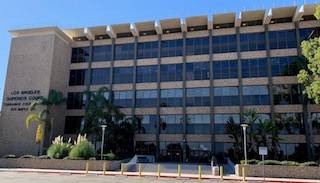 Torrance Courthouse
So, when we sent out such a routine e-mail to this client, she eagerly responded, saying she desperately needed her probation ended early and then expungement.
Greg then explained to the client that early termination of probation is discretionary, meaning the judge has the power to say no and keep the client on probation for the full term of probation. Sometimes, judges will do this when the client has a history of committing the same crime or the judge just does not think the reasons presented for early termination of probation were unpredictable at the start of probation or the reasons are "nothing more than the typical consequences of being on probation after being convicted."
Greg told the client that he thought her chances of having probation terminated early were about 60% to 75%, given the judge's history on other motions asking for the same thing that our office had filed.
Greg also explained how expungement does not erase, delete or remove the entry on one's California criminal history that one was charged with a crime. Here, her criminal history will still show she was arrested and charged with shoplifting, but it will show that her last plea was not guilty and the case dismissed.
Expungement also makes applying for certain state licenses easier, although one must disclose the conviction as it was a conviction indeed, but certain licensing boards may not deny a license based on an expunged conviction.
The client understood the limitations of expungement and that seeking early termination of probation was not "a slam dunk."

Our office then sent the client a series of questions via e-mail to answer and the client answered them within a day. The questions asked why one seeks early termination of probation and how being on probation has negatively affected one's career, personal life and/or finances.
Our office then drafted a short memorandum (perhaps 7 pages) of points and authorities, with a short declaration of our client that she signed, requesting early termination of probation. We then filed the motion in the Torrance Superior Court and served a copy on the office of the Redondo Beach City Prosecutor. The motion included notice of the hearing date.
On the day set for the hearing on the motion for early termination of probation, Greg went to the designated department for the hearing.

Surprisingly, the Redondo Beach City Prosecutor's office did not oppose the motion and the judge granted the motion to end probation early.
Our office then quickly prepared the petition for dismissal (expungement) for our client and filed that about one week later. The same judge who granted the early termination of probation motion granted the client's expungement motion.
Our client was very happy with the results on these two motions and asked us to help her expunge her two prior convictions for DUI, too. She was really thankful for our help with cleaning up her record and helping her have more opportunities at work.

For more information about early termination of probation and expungement issues, please click on the following articles: