Rancho Palos Verdes, Expungement of Three Drug Convictions
Our client, age 26 and with a good job, was arrested in Rancho Palos Verdes for being under the influence of narcotics and resisting arrest. She was at a large party in her friend's house and when officers came to break it up at 1:00 a.m., she told police officers to leave. Police officers tried to detain her, as they suspected she was under the influence of either alcohol or some controlled substance, but she ran away.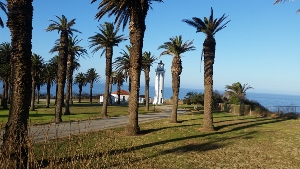 Point Vicente Lighthouse


Her running away was a challenge to the police, who recognized that if they allowed one person to verbally challenge them and not face any consequences from the police, the large crowd would follow her example. They chased after our client, tackled her and used pepper spray to subdue her.
What to Take Away: Expungement is a right if one successfully completes probation for almost all types of convictions (there are several exceptions), a year in prison or more was not imposed and the person is not facing a current case, on probation or in custody. Even when the facts of the underlying conviction are bad, as here, the judge cannot deny expungement if the person is otherwise statutorily qualified, except under a limited exception for DUI.

Police then found our client to be in possession of methamphetamine, cocaine, marijuana, concentrated cannabis, Vicodin, and several other combinations of prescription pills. A total of 103 prescription pills were found in her possession in her pockets. It was quite a find, although our office and police have certainly seen far greater numbers.
Our client yelled obscenities at the police, claiming police brutality, and kicked one officer in the groin area.
Our client was then taken to the Lomita Sheriff's station, from which she was taken to the Century West Regional Center for women (Lynnwood). After six days, including after the arraignment in which bail was lowered to $10,000, her parents posted bail and she was released.
At her arraignment, she was charged with: 1) Possession of a Controlled Substance (Health & Safety Code Section 11377(a)), a felony; 2) Unlawful Obstruction of a Peace Officer (Penal Code Section 148(a)(1)), a misdemeanor; 3) Possession of a Narcotic - Controlled Substance (Health & Safety Code Section 11350(a)), a felony, and; 4) Possession of a Substance, Non Prescribed (Business & Professions Code Section 4060), a misdemeanor.
The client initially used the public defender, but was not happy with her interest in the case. In our client's words, the public defender did not seem to care about her personally at all.
The client's parents then retained Greg Hill & Associates. Greg then immediately met with the client and her parents.
He then appeared in court and negotiated a plea bargain with the Torrance District Attorney to allow our client to plead to three misdemeanor counts and he would dismiss one of the felony counts.
Our client was ordered to attend a one year residential treatment program and ordered to serve twelve days in custody with twelve days' credit. She was then placed on a three years of formal probation.
After our client completed the terms and conditions of her probation, including the one year residential treatment program in Long Beach, Greg Hill & Associates moved the Torrance Court for a reduction of her felony conviction to a misdemeanor under Penal Code § 17(b) and for the Court to dismiss and expunge this conviction from our client's record.
Greg Hill & Associates successfully removed two of the three charges from our client's record. However, because our client had two drug related arrests after her conviction, the Court asked us to return in one year to apply again to expunge the remaining felony conviction.
If our client lives as a law abiding citizen with no additional arrests, the remaining felony conviction will be reduced to a misdemeanor and expunged forever from her record. At the time this summary is written, she has done so, at least so far.
For more information about the issues in this case summary, click on the following articles:
Watch our video about expungement by clicking
here
.
Contact us.