Rancho Cucamonga DUI, GERD, 0.11% BAC, Plea to Wet Reckless
Our client, age 21 and three months, went to an Upland bar with some friends. He was of legal age, so he had a few beers and mixed drinks. When midnight came, he left the bar and got into his car alone. He intended to drive home to Glendora.
The bar, located on Mountain Avenue, had an exit onto Mountain with a sign stating "Right Turn Only." Our client exited and turned left. There was even a large gap in the raised center divider, so it appeared to allow for this.
No sooner had our client entered Mountain, only going perhaps ten feet before even starting his left turn, a police officer spotted him and flipped on his overhead blue and pink lights to make a traffic stop. The police officer claimed he could not only see that our client was violating the "Right Turn Only" sign, but that our client's vehicle registration sticker was expired (even though the client's car was positioned perpendicular to the police officer and the "Right Turn Only" sign also was perpendicular to the officer).
Summary in 50 Words or Less: Client, just three months past his 21st birthday, arrested for DUI and has a blood alcohol content (BAC) of 0.11%. Case resolved for a wet reckless at the Rancho Cucamonga courthouse after Greg explains to the DA that GERD (gastroesophageal reflux disease) contributed to the client's BAC reading by his breath, but that his blood BAC would have been under 0.08%.
Our client immediately pulled over and was greeted by the police officer, whose first question was "Have you had anything to drink tonight?" The officer clearly stopped our client merely because he was leaving a bar at about midnight, but he indeed did violate the sign and his registration was indeed expired.
Our client submitted to a breath test at the scene and the Portable Alcohol Screening (PAS) device measured his blood alcohol content (BAC) at 0.112% and 0.113%. Our client was then arrested and taken to the West Valley Detention Center, from which his parents picked him up. His BAC was again measured at the West Valley Detention Center at 0.10%. He was released after signing a promise to appear in the Rancho Cucamonga Courthouse in about six weeks.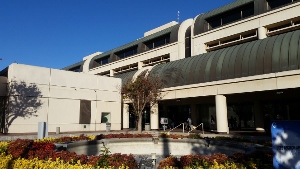 Rancho Cucamonga Superior Courthouse
The client's parents contacted many attorneys, but chose Greg Hill & Associates. Greg asked the client if he suffered from GERD (gastroesophageal reflex disease) and /or acid reflux and the client stated he did. He mentioned that his mom also suffered from this. Greg then explained how one who suffers from GERD may exhale alcohol infused stomach gas when submitted to a PAS or breathalyzer test, adding to the BAC that is measured, making it far higher than the true blood alcohol content.
Greg suggested that the client visit a gastroenterologist to be properly diagnosed with GERD and comment upon his acid reflux symptoms as soon as possible.
The client's mom arranged for such a visit, which the doctor documented in a report. The client's mom then provided this to Greg, who then printed out several articles summarizing studies that correlated the effects of GERD with inflating one's breath alcohol content over one's true blood alcohol content.
Greg then went to the Rancho Cucamonga Courthouse for the arraignment on the case and gave copies of such studies and the diagnosis for our client.
The District Attorney's Office was skeptical of this defense, stating they had never handled such a defense before. Over the next seven months, Greg repeatedly appeared in the Rancho Cucamonga Courthouse only be told that the District Attorney's Office "needed more time to consider the GERD defense."
Finally, after seven months of purgatory, our client was rewarded with the District Attorney agreeing to resolve the case for a wet reckless (Vehicle Code § 23103 pursuant to § 23103.5). The terms were similar to a DUI insofar as our client was placed on three years of informal probation, had to pay a $390 fine plus penalties and assessments (less credit for one day in custody) and attend an approved three-month alcohol awareness program. However, his driver's license was not suspended, as it would be with a conviction for DUI, so the client was very happy. Moreover, he could take satisfaction in that the DUI was dismissed.
For more information about DUI issues from this case, please click on the following articles:
Contact us.