Prop 47 Applied in Long Beach to H & S 11350 Conviction
Our client, age 50 in the year 2000, was homeless and using cocaine often. Long Beach Police stopped him for allegedly operating his bike without a working light (this is a common pretext for police to stop the homeless) and searched him. In his pants pocket, they found a small baggie of cocaine, containing about seven grams of the substance.
Our client was then arrested and taken to the Long Beach Courthouse two days later, where, with the assistance of a public defender, he pled no contest to a then-felony violation of California Health & Safety Code § 11350(a), possession of a controlled substance.
Pursuant to a rather, cookie-cutter approach taken for such offenses, then our client's first, the judge ordered deferred entry of judgment (DEJ) for twelve months.
Nine months later, however, our client was convicted of possession of drug paraphernalia, a misdemeanor violation of Health & Safety Code § 11364.
This paraphernalia conviction constituted a violation of the terms of his DEJ for the felony possession charge, so the judge revoked our client's DEJ arrangement and entered a conviction for the felony against him in 2001. The judge then sentenced our client to thirty-six months of formal probation. When the DEJ was revoked, a bench warrant was also issued. This warrant remains outstanding until 2019, when the client called Greg Hill & Associates and spoke with Greg Hill.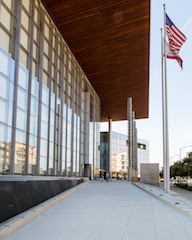 Long Beach Courthouse
The client explained his 2000 and 2001 cases (he actually picked up a second paraphernalia charge in 2001 as well), as well as his current status in life. Greg responded that he could go to the Long Beach courthouse and, under Proposition 47 (at Penal Code § 1170.18(f)), he could request reclassification of the felony possession charge to a misdemeanor.
Greg cautioned that because of the outstanding bench warrant as a felony, the judge may tell Greg that the client must appear in court first before the judge can act. Greg told the client that, nonetheless, other judges will not require this to reduce the charge to a misdemeanor first and then allow Greg to appear under Penal Code § 977(a) on the misdemeanor, as the case would then be, to recall the bench warrant.
Greg Hill & Associates then prepared a motion for reduction of the felony possession charge to a misdemeanor under Proposition 47 and more specifically, under Penal Code § 1170.18(f). The motion explained how our client, now 67 years old, was living in Seattle, Washington. He had worked hard since the year 2001 when he was homeless and has resolved never to make the kinds of mistakes that led to the conduct at issue here. He was now committed to living a clean, responsible lifestyle so he can be a role model to the members of the Seattle Union Gospel Mission.

However, the felony case against him had detrimentally affected his ability to find full-time employment. At present, he was doing missionary work with the Seattle Union Gospel Mission, where he worked closely with drug addicts, alcoholics and the homeless to provide help and comfort. He felt a real sense of improving society by helping individuals struggling with addiction because he had "walked that path" himself. He has been clean and sober for over twelve years.

During his time at the Seattle Mission, our client had received many awards recognizing his accomplishments and hard work. We attached copies of such awards as exhibits to the motion.

The Seattle Mission had recently offered our client a full-time position as a pastor; however, he was barred from accepting the position with a pending felony on his record. This felony case was having a devastating impact on his life, in other words, which is why he is now requesting that the judge reduce the felony to a misdemeanor under Prop 47.

Our motion further addressed to the judge that our client had no other prior conviction requiring registration under Penal Code § 290 or one listed under Penal Code § 667(e)(2)(c)(iv) ("Super Strikes") that would disqualify our client from Prop 47 eligibility and bar the judge's application of Prop 47.

After Greg filed and served the motion, he heard nothing from the District Attorney's Office.

He then went to the court on the designated date for the hearing. The prosecutor advised Greg that his office had no objection to the motion.

The judge then kindly reduced the felony to a misdemeanor, recalled the bench warrant, reinstated our client on probation and then terminated probation, making our client immediately eligible for expungement of the conviction.

Our client was extremely happy with this result. He could now move on with being hired as a pastor.
For more information about Proposition 47 issues, please click on the following articles: