Prop 47 - Must One Ask for Relief or Is It Automatic?
The reader of this article may be aware that, generally speaking, Proposition 47 ("Prop 47") applies to reduce certain felonies to misdemeanors in California.
The Gist of this Article: Relief under Prop 47 is not automatic. To have an eligible felony reduced to a misdemeanor, one must affirmatively request this and show that one is not disqualified from relief.

When Prop 47, also known as The Safe Neighborhood and Schools Act, was passed on November 4, 2014, there were immediate questions as to how it would be implemented. In some courthouses, judges required a written request for resentencing. In others, judges permitted oral requests. In at least one courthouse that this author knows of, a clerk was ordered to look through literally hundreds of files (perhaps thousands) to find eligible candidates for reduction and to reduce the convictions and sentences on the court's own motion.
In the last instance of how Prop 47 was implemented, its provisions seemed to be applied automatically. In fact, this office has spoken to many people both in jail and in prison with old convictions that believe Prop 47 reduction provisions apply automatically. However, this is not true, as the following reported decision from the Fourth Appellate District makes clear.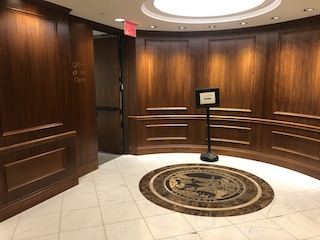 Fourth Appellate District Court of Appeal Division One San Diego
In early 2014, before Prop 47 was approved on November 4, 2014, San Diego Police officers approached Gary Richard DeGraff as he was outside his home washing his car. At the time, DeGraff's home was known as a place where narcotic sales occurred, so police wanted to speak to DeGraff. After speaking briefly with DeGraff, the officer asked him if he could search him.
DeGraff replied yes, saying he was on probation so the officer could. Officer Ruiz then looked into DeGraff's pocket, and found a folded paper containing 1.72 grams of methamphetamine. DeGraff commented, "I didn't know it was there. It's not mine." Officer Ruiz then arrested him.
After Ruiz put DeGraff in the patrol car, Ruiz did a records check on DeGraff and discovered DeGraff actually was not on probation.
While Ruiz was arresting DeGraff, DeGraff yelled into his house to his girlfriend, Veronica Lorraine DeHoyas, who then came out of the house. Officer Ruiz then asked her if he could search her. She said, "yeah, I don't have anything on me." Ruiz then searched her and found she has .50 grams of methamphetamine in her pocket. Ruiz thne arrested her, too.
Ruiz then requested consent from DeGraff to search the house. DeGraff gave such consent in writing. Ruiz then proceeded to search the home, finding 19.2 more grams of methamphetamine in a bedroom.
As may be expected, a jury convicted both DeGraff and DeHoyas of possession of methamphetamine (Health and Safety Code § 11377(a)). Both were given three years of formal probation.
As may also be expected, DeGraff appealed, arguing that his consent was invalid because he really was not on probation at all and the officer should have checked his computer in his police car to verify DeGraff was indeed on probation before searching him.
The Court of Appeal dispatched with this argument rather quickly, saying that when a defendant tells a police officer he is under a search condition, the officer may reasonably rely upon the defendant's statement and evidence found during the search will not be suppressed if it later turns out the defendant was not under a search condition.
In re Jeremy G
. (1998) 65 Cal.App. 553, 556,
see also
People v. Tellez
(1982) 128 Cal.App. 3d 876, 879-880 (the court properly denied a suppression motion where officers conducted a search based on a mistaken representation that defendant was on parole).
DeHoyas also appealed her conviction, contending that Proposition 47 applied retroactively and automatically to entitle her to resentencing and that she is not obligated to follow the resentencing procedure under Penal Code § 1170.18.
The appellate court reviewed the legislative intent behind the act and disagreed with DeHoyas. It found that the statute provided that a court must conduct a thorough analysis of whether an individual poses a risk to public safety before reclassifying a conviction or an offense. In other words, application is not automatic at all.
Moreover, the statute provides that a judge can then deny the application. Therefore, DeHoyas' appeal was denied as well.
For more information about the issues in this case, click on the following articles:
Does Prop 47's Definition of Unreasonable Risk to Public Safety Apply Retroactively to Allow Resentencing under the Three Strikes Reform Act?
Contact us.