Pomona DUI with Loaded, Unregistered Gun in Backseat
In a Nutshell: Client DUI in Pomona, but during inventory search of her car, police find a loaded handgun, which was charged a being a felon in possession of a firearm because our client had a prior conviction for a felony. Case resolved with no jail, but initial offer involved sixteen months of state prison.

Our client, age 27, had been out with friends at a friend's home in Pomona. COVID-19 social distancing restrictions had led to the closure of restaurants and bars, but not the need to socialize and relax with friends.
Our client was driving home, proceeding westbound on Mission Avenue. She had consumed a few beers, but felt fine. It just before 1:00 a.m.
A Pomona Police Department officer was heading eastbound on Mission and, according to his report, could tell our client was speeding. He turned around and paced our client, allegedly pacing her at 50 miles per hour in a 35 mile per hour speed zone. He also wrote in his report that our client was swerving within her lane, but a certain amount of swerving is normal. Indeed, no one, even the best drivers, is able to position the car perfectly parallel to both lane lines at all times.
The police officer made a traffic stop of our client and asked her to perform field sobriety tests (FST's), which she allegedly failed. She then submitted to a preliminary alcohol screening (PAS) test at the scene and her breath was measured at 0.14% and 0.13% blood alcohol concentration (BAC). She was then arrested. At the Pomona Police Station, she provided a further breath sample and her BAC was measured at 0.11% twice.
Pursuant to her car being towed, officers performed an inventory search of the car and found a loaded SSCY loaded 9-millimeter handgun under the passenger's seat. The weapon was not registered to our client. This was a violation of Penal Code § 25850(a), carrying a loaded handgun on one's person or vehicle, not registered to him or her.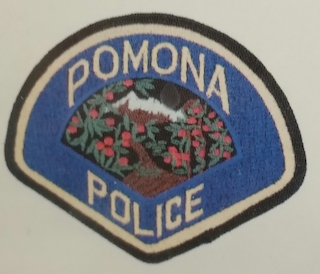 Pomona PD
Penal Code § 25850(a) is a wobbler offense, meaning it can be charged as a felony or a misdemeanor depending upon the facts of the case, defendant's prior criminal history and the prosecutor's practices. In this case, our client had an extensive criminal history, including two juvenile adjudications, a prior petty theft conviction, two prior convictions for possession of methamphetamine, and a prior conviction for felony taking of a vehicle without the owner's consent (Vehicle Code § 10851), which was later reduced to a misdemeanor. In the 10851 case, our client was sentenced to 365 days in county jail, but served just under half.

Due to COVID-19 transmission concerns, our client was released from jail without having to post bail. She called Greg Hill & Associates and described what had happened. She told Greg that she was arrested for not only DUI, but for being a felon in possession of a firearm. Greg explained how the case might proceed at the Pomona Superior Court, based on his experience.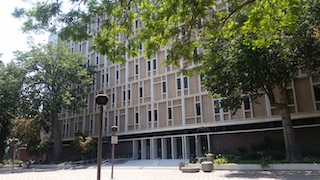 Pomona Courthouse
When Greg and the client appeared in court for the client's arraignment, they were pleased to find that the client was not being charged with being a felon in possession of a firearm, but still was being charged with a felony, but for 29800 instead. Due our client's extensive criminal history, the violation was charged as a felony.
The initial offer from the District Attorney was a plea to a violation of Vehicle Code § 23152(a), driving under the influence of alcohol, or § 23152(b), driving with a blood alcohol content of 0.08% or higher, by weight, and a plea to a violation of Penal Cope § 25850(a) in exchange for sixteen months in state prison, plus standard DUI terms for a first-time DUI (enrollment in and completion of three-month alcohol awareness program (called the AB 541 program), court fines of $390, plus penalties and assessments (totaling nearly $2,000) and compliance with DMV requirements for installation of an ignition interlock device (IID)).
Sixteen months in state prison was quite sobering for our client. She was dumbfounded.
Greg continued negotiating and the district attorney dropped the sixteen months in state prison to 90 days in county jail with three years of formal probation.
Greg continued negotiating, explaining that the client had taken a safe firearm procedures course and already enrolled in the DUI program. The prosecutor then further "sweetened" the deal to sixty days of community service with an agreement that if the client completed all terms of probation within 18 months, the People would reduce the felony to a misdemeanor.
The client accepted this deal, happy that she would avoid a felony and any time in custody.

For more information about loaded firearms and DUI, please click on the following articles: