According to the NHTSA, What Type of Driving is DUI?
While the Fourth Amendment does permit brief investigative stops when a law enforcement officer has a "particularized and objective basis for suspecting the particular person stopped of criminal activity," a police officer may not make such a stop based on a mere hunch. A hunch does not create a reasonable suspicion. Terry v. Ohio (1968) 392 U.S. 1, 21-22.
The Gist of this Article: The following article lists the top 20 types of driving and top 15 types of motorcycle driving that are cues of drunk driving (speeding is not one) as determined by the National Highway Safety Administration (NHTSA). It is an interesting list, so enjoy this article.

Indeed, an officer may stop and detain a motorist only when that officer has a reasonable and articulable suspicion that the driver has violated the law. Ornelas v. United States (1996) 517 U.S. 690, 693, 134 L. Ed. 2d 911, 116 S. Ct. 1657; People v. Superior Court (Simon) (1972) 7 Cal.3d. 186, 200, 101 Cal. Rptr. 837, 496 P.2d 1205.
Some may say that California law has been even more protective of a person driving a car. In People v. Mead (1954) 126 Cal.App.2d 164, 271 P.2d619, the Third Appellate District Court of Appeal held that police must witness impairment in one's driving to an "appreciable degree" to make a traffic stop.

So, what types of impairment are police officers taught could create reasonable suspicion of DUI?
The National Highway Traffic Safety Administration has studied this extensively over the years and has arrived at lists of the top 20 cues exhibited by automobile drivers and the top 14 cues exhibited by motorcycle drivers.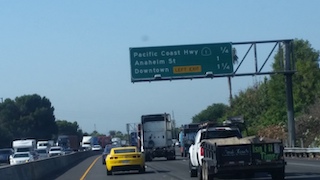 Cars on the 710 Freeway
The top 20 cues for DUI in automobile drivers are:
Turning with a wide radius;
Straddling lanes;
Appearing to be drunk (by the officer looking at the driver, perhaps by driving alongside);
Almost striking an object or another vehicle;
Weaving (but see People v. Perez (1985) 221 Cal. Rptr. 776, 778 (("pronounced" swerving for a substantial distance is required for a proper traffic stop and over six inches into the adjoining lane) and that the California Court of Appeal for the First District has expressly followed Ninth Circuit case law and held that an officer's mistaken understanding of the law cannot constitute reasonable suspicion for a traffic stop. People v. White (2003) 107 Cal.App.4th 636, 644; see United States v. Lopez-Soto (9th Cir. 2000) 205 F.3d 1101, 1105 (evidence suppressed where officer made reasonable mistake of law about registration sticker placement); United States v. King (9th Cir. 2001) 244 F.3d 736, 741 (evidence suppressed where officer made good-faith mistake about handicap placard placement).
Driving on other than a designated highway;
Swerving (see notes above on weaving);
Slow speed (more than ten miles per hour below the speed limit);
Stopping without cause in a traffic lane;
Following too closely;
Drifting (please note United States v. Colin (2002) 314 F.3d 439. In Colin, a CHP officer made a traffic stop of a vehicle whose right tires had touched the fog line of the freeway for over a quarter mile, which the officer believed constituted sufficient reasonable suspicion to stop the driver. The U.S. Ninth Circuit Court of Appeals held that the officer made a mistake in stopping the vehicle too soon);
Tires on center or lane marker (see notes on drifting above);
Braking erratically;
Driving into opposing or crossing traffic;
Signaling inconsistent with driving actions;
Slow response to traffic signals, i.e., a green light;
Stopping inappropriately (other than in lane);
Turning abruptly or illegally (but see People v. Carmona (2011) 195 Cal.App.4th 1385, wherein the Second Appellate Court held that failure to use a turn signal before turning or making a lane change is not a violation of the law unless such a turn or lane change without use of the turn signal affects the safety of another vehicle or driver);
Accelerating or decelerating rapidly; and
Headlights off during darkness.

We note that speeding is not considered one of the top twenty cues for DUI for an automobile, as determined by the NHTSA.
The top 14 cues for DUI in a motorcycle driver are:
Drifting during turn or curve;
Trouble with dismount;
Trouble with balance at a stop;
Turning problems (e.g., unsteady, sudden corrections, late braking, improper lean angles);
Inattentive to surroundings;
Inappropriate or unusual behavior (e.g., carrying or dropping object, urinating at roadside, disorderly conduct);
Weaving;
Erratic movements while going straight;
Operating without lights at night;
Recklessness;
Following too closely;
Running stop light or sign;
Evasion; and

Driving the wrong way on a street or highway.

Speeding by a motorcyclist certainly could be characterized by recklessness, but we feel it is significant that speeding is not specifically listed as a cue for DUI here for motorcyclists, either.
When an attorney is arguing a motion to suppress for an improper traffic stop in a DUI for a reason not listed above, we find it effective to ask the officer if such a reason is one of the top 20 or top 14 cues for DUI and then list them out to show that the officer lacked reasonable suspicion of DUI, but instead suspected DUI based on a hunch, i.e., it was 2:20 a.m., or our client was seen driving away from a bar or restaurant after closing time, neither of which are proper grounds for a traffic stop.

For more information about traffic stops in general, please click on the following articles: